FERRAGOSTO
6 July — 23 July 2022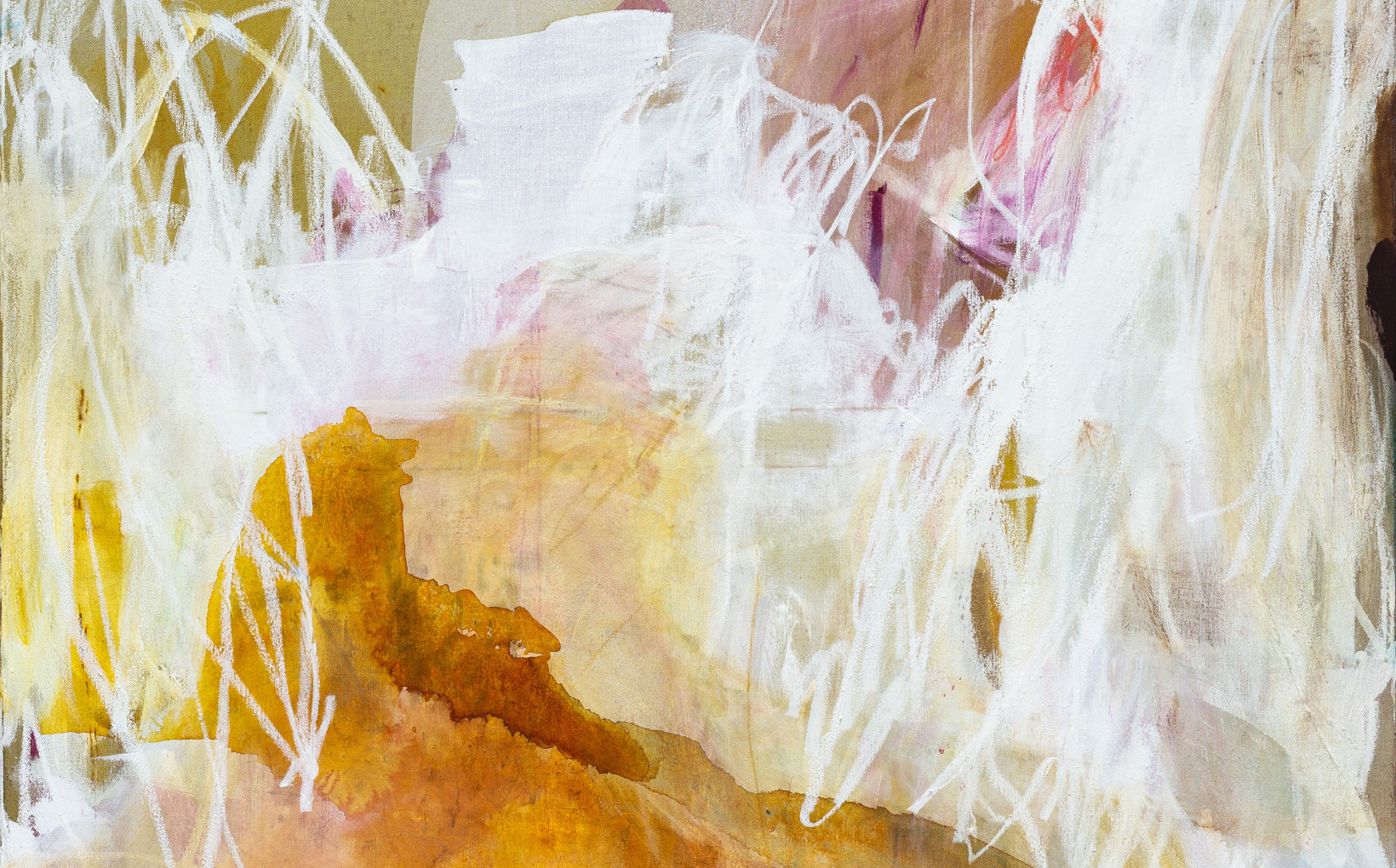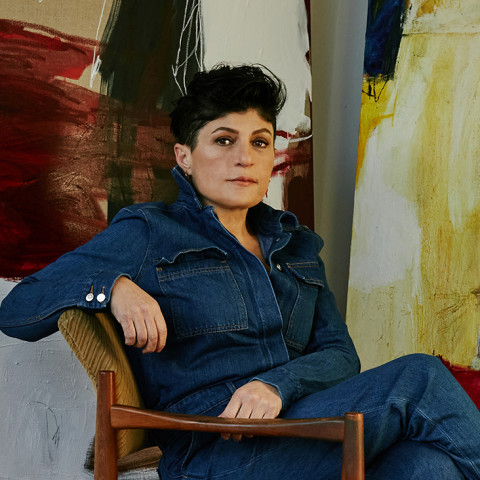 Lives and works in Sydney
Represented by nanda\hobbs
Unstretched, large-scale canvas 'flags' hold the central gallery space in suspended procession accompanied by their wall-hung counterparts. Singular colours expressed in both deliberate fields and processual mark-making are a means to recall memories, personal to the artist and those situated within a larger cultural heritage. Deeper within the space a bronze Madonna, reverently embellished in ceremonial floral adornment, she awaits the parade—Ferragosto. A pageant, a performance, and above all a celebration, the historically and culturally significant public holiday marking the height of Italian summer is an archetypal social ritual informing the latest body of works by Antonia Perricone Mrljak. This exhibition itself is a ritualised space celebrating celebration—as a positive force of personal and social transformation, and a powerful act of political positioning.
Growing up in a traditional Italian family, to celebrate, to come together, whatever the reason, has been a way of life—one that now informs her work. In Ferragosto, 2022, Perricone-Mrljak translates her inner world in a rare exteriorisation of what the ritual of mark-making on canvas signifies for her. She does this by expanding into the gallery not only those memories contained within her paintings, but also ceramic masks and a one-to-one scale bronze Madonna brought directly from past iterations of the famed Ferragosto parade for the Assumption of Mary. Within the gallery, the exhibition creates a processional space in which the public is welcomed into the festivities by the works themselves. It is, in its own way, a ritual experience. To walk through the four draped flags is anticipatory of the celebrations to come. They are voided of specific symbols which might otherwise carry religious and community identifiers. Instead, the viewer is free to vest these surfaces with their own version or sense of occasion. Led further into the gallery by wall hung paintings, the works together are processing cultural memory through the processual movement of both artist over canvas and viewer through the space. The experience culminates in the burnished, bronze Madonna as she sits waiting, surveying, and sanctioning the entirety of the unfolding encounter.
The deliberate walls of colour in Perricone-Mrljak's paintings are connected by flares and residues of contrasting pigment. These are bodily illustrations of unspoken words, acts, events, of moments lived by the artist and her ancestors. The movements are ways to remember and, in building her compositions, make her works performative while still anchored in the formal languages of abstraction. Having started work very young in fashion, a sense of balance and composition are innate to the artist. What she expresses through her body, to the reach of her limbs across the canvas, is less formal than reflex. Something less evident, however, is the performative act of making as form of catharsis. In this latest exhibition, Antonia expresses an inner world, a world connected to those that have come before her, through painting as a ritual anchorage from which to depart—in turn exploring the celebratory mass ritual of Ferragosto. Recalling memories of cultural rituals iterated over and again (for millennia), the artist has chosen Ferragosto for its archetypal nature, crossing classes and bringing people together around an undeniable tenet: that joy and pleasure are innate human urges and powerful means to create and connect a community.
On canvas, Perricone-Mrljak's works contain the exuberant flashes of contrasting pigment that excite but which might also fracture an otherwise stable and contemplative colour field. In her flags and paintings, however, they appear to cohere the composition as a whole. Collective experiences of deliberate chaos, revelry and abandon are also moments that create cohesion through the enhancement of solidarity, they connect the whole. It is the act of 'celebration', the moments marked together which are powerful for the artist and that she wishes to share. Mass public rituals such as these are also politically powerful in rendering visible communities and demonstrating this community and solidarity, offering complex commentary on political economies and state, religious, industrial, and social relations. For the artist though, simply to celebrate and to be joyous with others is to create a sense of belonging, to create community—and these are positive political acts which create change.
In Ferragosto, the artist translates the ritual into the gallery space but also makes a key point about what makes celebration and community possible. The Madonna is an installative symbol of the reconstituted festival in the gallery, yes, but she is also a symbol of the key organisers and lifeblood of community work in general: women. An important religious and art historical figure, here adopted and adorned, Mary mother is monumental. Her half tonne presence, enshrined by floral arrangement, presides over the space from a comfortable, well-deserved, seated position—after all she very likely put this whole show together. Here she is at rest, carried in the real parades throughout Italian towns by their men, but here in her splendour in the inner sanctum of the gallery, where you must come and find her. She is big, beautiful, hugely expensive, and the celebrated guest of honour in festival as in gallery.
Celebrated on August 15 throughout Italy, Ferragosto is a significant day of cultural festivity with amorphous historical, religious, political, and economic significance—it is wholly embedded in the society which occasions it. Originally the Feriae Augusti, it was designed as the recompense for the labour of an agricultural class during the early Roman Empire before being reassigned by the Catholic Church/State to align with the Assumption of Mary. Certainly, it has been a rite ripe for co-option by the powers that be, yet more than this it has been an active vehicle of social negotiation of all kinds. Today, the holiday featuring a parade through every Italian town with a monumental statue of Mary may not register immediately as such a vehicle. It may not appear at first as a space within which formal social boundaries and hierarchies dissolve à la Turner, there is perhaps no need to explore liminality here. It is as simple as it is effective: to have fun is fun!
Upon closer inspection, however, Ferragosto, like other rites built around rest, revelry, and pleasure, finds a community reinforced and solidified at its close. The creation and soldering of the communal ties that bind by rendering them visible, by inviting all to partake, by providing the space for the performance of belonging. For Antonia, celebrating life, the lives of others, is powerful. It is a positive act of radical affirmation personally and communally which finds its culmination in the procession, the party, the revelry of festivity. Here, the artist invites all to partake. Ferragosto.
Alex Pedley
\
Exhibition featured works
12 - 14 Meagher Street Chippendale, NSW 2008
Opening Hours
Monday to Friday, 9am - 5pm Saturday, 11am - 4pm