The Mirror Electric
7 February — 26 February 2022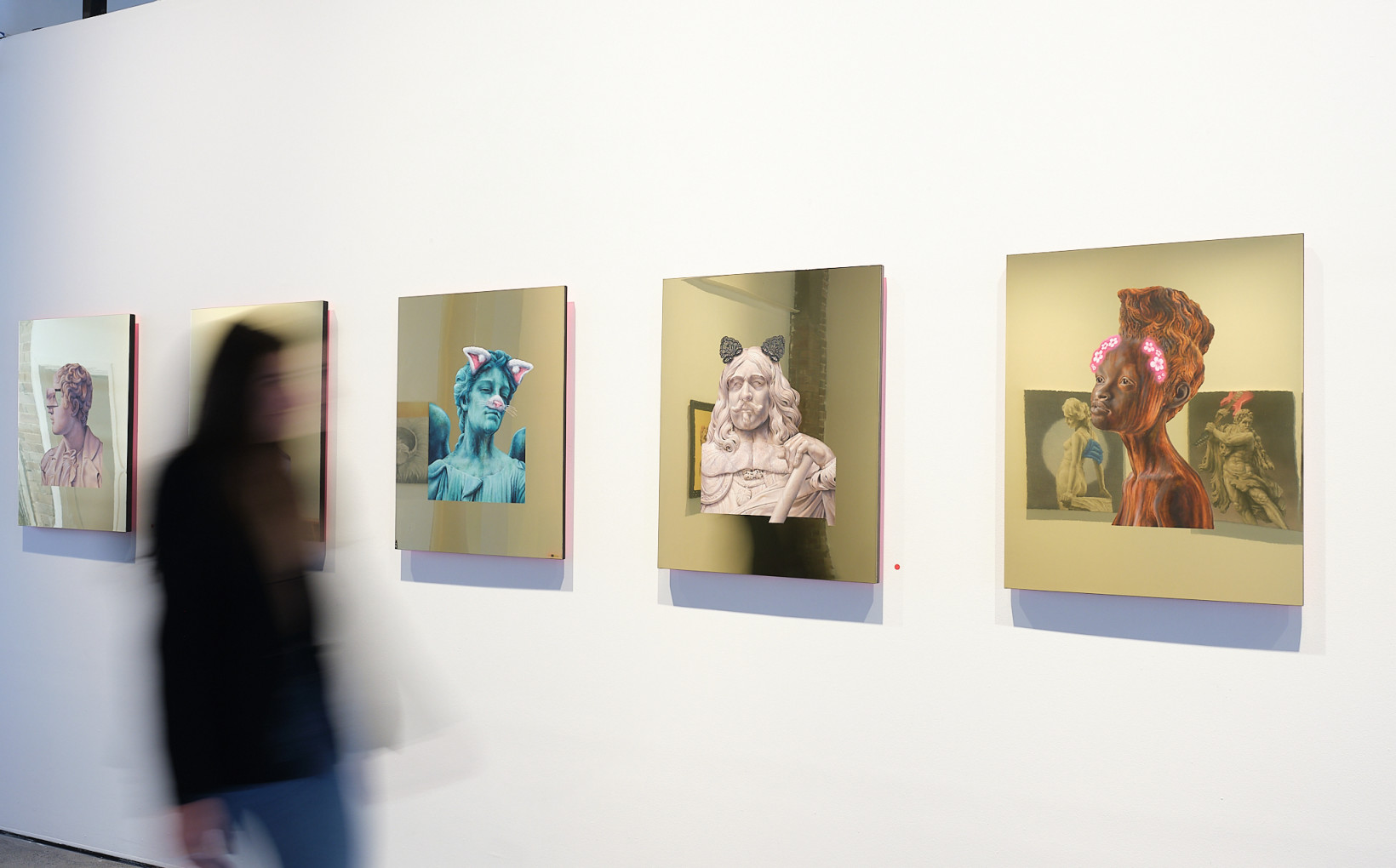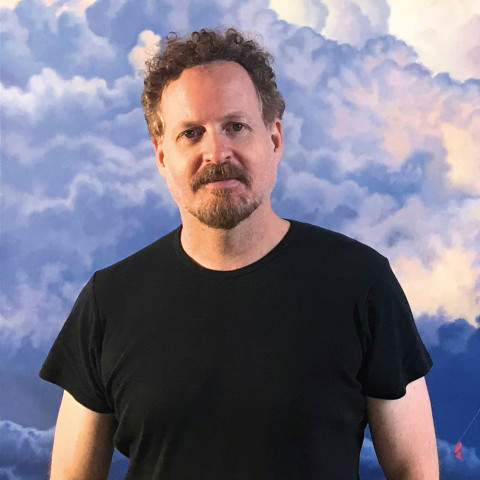 Lives and works Melbourne
Represented by nanda\hobbs
Ahhh, social media…can't live with it, can't live…erm, hold that thought. That's one of those pithy bits of 2021 #truestory wisdom that should probably be posted online. Be right back.
Visually documenting, and—of course— ritualistically posting concrete proof of our diligently curated #yolo lives is the digital equivalent of breathing, isn't it? In the 21st century, to be or not to be is hardly a question as long as the time stamp on our social media account confirms that we published something just a short while ago…preferably a video to placate the algorithm gods.
Receiving a gloriously validating like from strangers isn't so much to ask. In exchange for highly coveted, virtual endorphin-boosting pats on the back, we make a perfectly innocuous deal with the devil. Gold stars—the true currency of our global society—can be earned by incessantly publishing #livingmybestlife money shots on our social media accounts. Actually being present during those experiences, though, is sooo 2003. Anyone worth half their weight in followers knows that as long as a visual narrative is relatively convincing—or at least extra glossy—no one will be the wiser. Indeed, #thestruggleisreal, but let's all just admit that we're #sorrynotsorry.
Matthew Quick's new series, "The Mirror Electric", is inspired by the cliché-ridden stories that we tell ourselves—tall tales that help us to swallow the bitter pill of our ho-hum, real-world existence. The compulsive, online folly that we've willingly embraced as normalcy can be summed up in a series of confessional, relentlessly flogged hashtags that – when viewed through a long lens—are as amusingly unimaginative as they are eyeball rollingly ludicrous. We willingly engage in the ceremonial act of revealing absolutely all to our followers—and yet, curiously enough—nothing in particular.
Conceptually, Matthew's latest painterly journey took form at the beginning of our global pandemic. The internet has long offered its users the ability to experience comfort, solace, and connection with each other, but that lifeline was further galvanized when public health uncertainty rattled every single one of us to the core. In many cases, our cultural COVID-19 coping mechanism revolved around embracing an even deeper fantasy of online myth-building and boasting.
The Australian artist contemplated the irony of a society desperately seeking socialization and togetherness despite conjuring increasingly more outlandish digital personas. "The Mirror Electric" examines our collective craving for acknowledgement and virtual accolades, which we seek merely just for existing in highly stylized photographic bubbles (that are strategically hashtagged for maximum audience reach).
Matthew Quick's visual interpretation of the highly gilded selfie vignettes that we release into the world—so many of which broadcast how incredibly #onfleek we are or how our latest rant is the result of having #nofilter—offer the beholder a tongue-in-cheek perspective of online life that is nonetheless softened with a touch of stirring relatability. Every one of us has fallen into the trap of manufacturing aesthetic fairytales for follower approval. As arrogant as our enthusiastically embraced cultural practice can sometimes be, it points to humanity's need to feel as though we somehow matter during our brief blip in the timeline of history.
Soon to be unveiled at Nanda\Hobbs, "The Mirror Electric" includes 21 works of art in total, 14 of which are selfie-style portraits painted in oil on highly reflective, gold-tinted aluminum. It is no coincidence that the shape and visual aesthetic of his metallic canvas echoes that of a garden-variety, cellphone-captured image. Matthew Quick's decadently gilded, high beam backdrops—as alluring to gaze at as celebrities voguing on the red carpet—set off the matte visages of his camera-loving sculptural entities like a sensory-jolting paparazzi flash. He reinforces the idea that his glorified subjects are stars in their own minds by engineering his pieces to facilitate the circulation of light behind them. This—coupled with the application of fluorescent paint on the underside of each canvas—enables each of Matthew's works to project the signature perimeter glow that is so intrinsically connected to modern life.
Once we adjust to the painter's dazzling, pseudo-digitalized backdrops, we quickly dial into the seemingly nonchalant gazes of his canvas stars while they don the latest fuzzy-eared, floral-flourished filters. A moment passes and then the truth sinks in. His stone busts actually mirror the collective 'we'. While we may initially imagine that they are casually captured during moments of unassuming reflection, their classic cookie-cutter selfie poses suggest otherwise. Anyone who has fed the social media beast knows that establishing and maintaining digital reverence requires manufacturing endless new looks. Even if our perceived acceptance is nothing more than an inner fantasy, there comes a point when we revert back to the same-old pedestrian poses due to sheer exhaustion and utter lack of inspiration.
Matthew Quick adds further quirk and circumstance to "The Mirror Electric" by transforming conventionally painted canvases into dynamic showcases for his seemingly carved figures who appear to be living their most pulse-quickening lives, far far away from the stuffy sculpture museums that they escaped from. And So Began The Revolution is a particularly striking, feminism-forward composition, featuring a trailblazing, absolutely resolute 24 carat gold Joan of Arc riding her equally magnificent, Chanel-embossed steed, while a foreboding, blood red sky looms large behind them. When Cultures Clash summons the angsty punk rock legacy of the UK's self-proclaimed only band that mattered. Matthew's 1% body fat Greek god channels their axe-obliterating bass player while his shoulders and family jewels remain artfully draped with the deflated body of a once-regal lion.
Marble sculptures are generally perceived as exuding elegance, so Matthew's ever-inventive disruption of that notion is particularly appealing to those who relish visual narratives that are just a little…off. In his painting "The Forever Playlist", the carved headphones that rest atop a pillowy surface of expertly chiseled rock appear to be fashioned with a single, eardrum-impaling crimson spike. In a similar vein, Sign of the Times—Phoenix Rising stars a lovely, lithe tower of feminine strength. Pay closer attention, and you'll realize that her right arm is branded with a thread-and-needle wielded tattoo. Surely, enduring the leaping-lizard-pain of a silky-stitched body modification like that would require the nerve-steadying magic that only a 750-milliliter bottle of scotch whiskey could deliver.
On the surface, the Australian creative's take on perennially sobering memento mori imagery—as seen in The Death of Painting"—certainly echoes the most commonly held sentiments of his historical and contemporary counterparts. The beholder is urged to allow the fleeting nature of our existence to truly sink into our bones, ideally rousing us to squeeze the marrow out of this precious gift of life while we are still able. Matthew's composition is significantly darker than its candy colored, cheerfully grinning Takashi Murakami floral adornments might suggest, however. Putting aside the existentiality of death, his fancifully jazzed up memento mori comments on the rank commercialization of the art-making process which, sadly, reduces high profile creatives to factory line ringmasters. When the soul-fulfilling joy of giving birth to a one-of-a-kind work of art is stripped away, it can, indeed be likened to that of a death.
Intriguing contrasts abound in Matthew Quick's whimsical and certainly humorous "The Mirror Electric", making it far headier than most art viewing experiences. He toys with the beholder's emotions and perception of the secret lives of his three-dimensional stone entities. The greatest irony is that—in the Australian artist's plane of painterly existence—it seems as though his inanimate stone objects would still be inclined to waste their precious time pursuing the kind of vapid things that humanity's online culture rewards. Whether we like it or not, Matthew's artfully outlandish narratives compel us to give our own reflections a good long look in the mirror, and perhaps even conduct a bit of slightly uncomfortable soul-searching in the process.
Elizah Leigh
\
Exhibition featured works
12 - 14 Meagher Street Chippendale, NSW 2008
Opening Hours
Monday to Friday, 9am - 5pm Saturday, 11am - 4pm