you always want the wind and the tide with you
19 April — 30 April 2022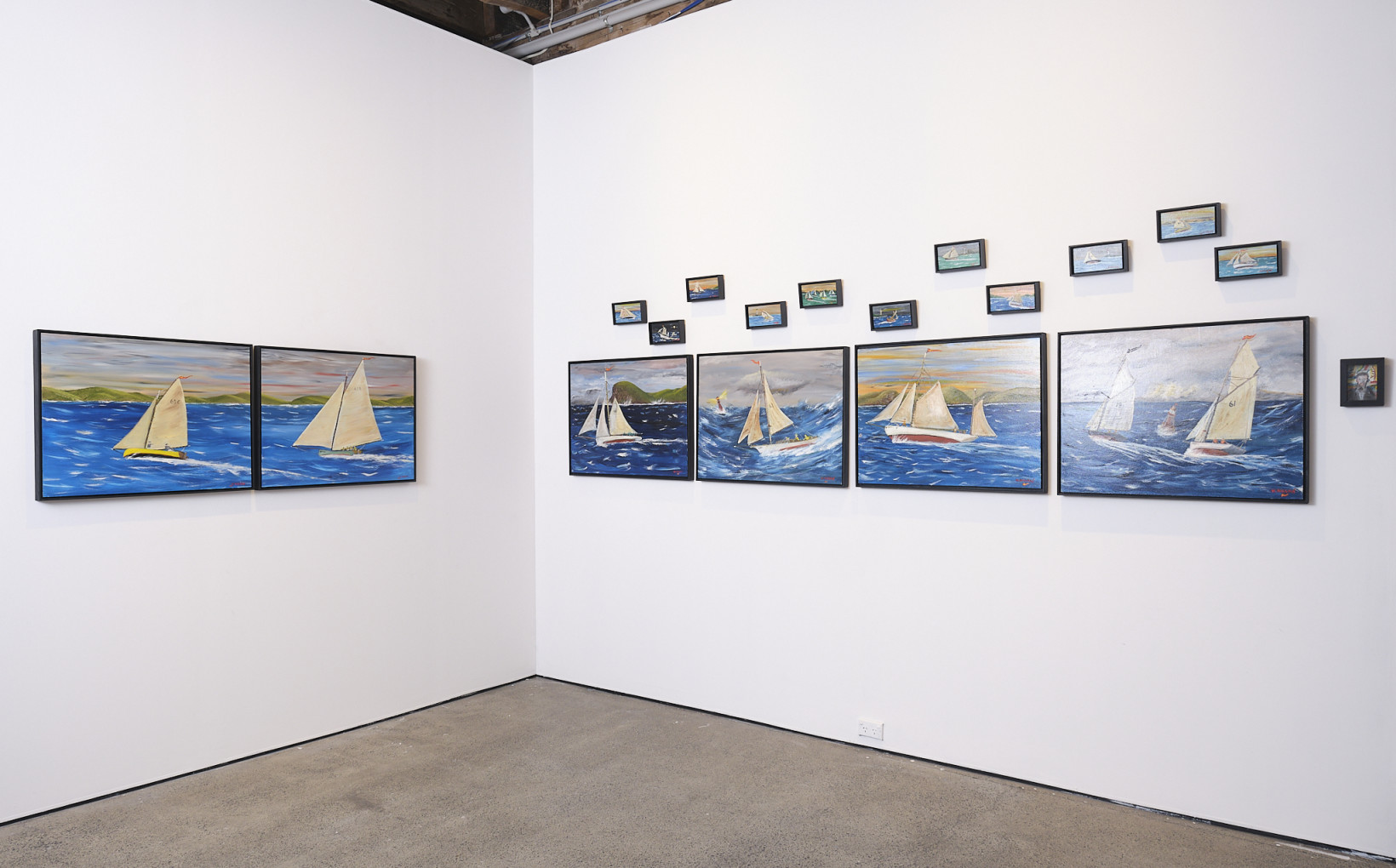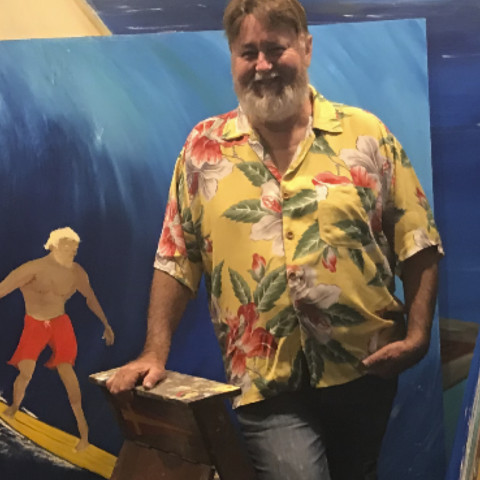 Represented by nanda\hobbs
On my first memorable visit to Wayne Magrin's studio (a seconded part of the lounge room), I realised the artist's obsessive outpouring spoke of his unique relationship with the world. Magrin's persona occupies the half-light between the real and imagined. I was immediately drawn into his narratives—conceived from a life buried in chronicled history and sailing on the open ocean. The paintings recounted in focused detail stories from pagan times. Norse sagas and pirate fables, coupled with paintings of sailing ships heading upwind were scattered about. It was a stream of consciousness and the directness in paint application that broke like a metaphoric wave over me—unlike anything I had encountered.
One could consider the paintings of Magrin as 'outsider.' His works ignore many of the conventions of formal painting. His vision has remained unaffected by the fastidiousness of the art world despite great exhibiting success in America. For years, Magrin has painted to tell stories to himself. If others liked them, that was a bonus. He tells tales in paint that speak of his passions. There is an unfiltered correlation between his mind's eye and his paintings. In a world awash with manicured imagery, it is refreshing to know the artist's mind and to feel what the artist feels.
When considering the art of Magrin, it is useful, by way of the historical location, to consider the work of the French Post-Impressionist, Henri Rousseau. Painting in the later part of the 19th century, Rousseau's inspiration from children's books and his fervent imagination would lay the foundation for the Modernist pursuit of a new world cultural order. Untrained yet intoxicatingly direct in his image making, the narrative reigned supreme. There is a Nolanesque urgency to his practice—the works speak of the places that are ubiquitous to us, yet he crafts in his own pictorial compositions to which we can escape.
Ralph Hobbs
April 2022


With the war going on and senseless killing every day, I read the news. I look at my five-month-old daughter Esme' and look at the world we have brought her into.
The filmmaker Jean Renoir said, "the problem with the world is everyone's got their reasons."
It is distracting and overwhelming. But at the same time, in a small room on the Australian coast and in his backyard, one could discover a gesture sweet and pure, optimistic and hopeful, that counters the lunacy of mankind.
It can be found in the painted gesture. In the simple clarity of paint intention and imagination.
I came across a small painting on wood the size of my hand some years ago at a friend's house. "Who made this," says I. The guy who lives up the road who has a sandwich shop! "Let's go see him," says I.
That was the first painting I saw of Wayne's and that lead me to his studio, and it opened up a painted world that I needed to see. When you come across a painted mark like that of a small sail, you pause. Anyway, I did. I wanted to see more. And then he made some big ones all on wood—powerful marks, full of humanness.
I have encouraged Wayne a bit and the marvels he has been spinning have generated other painted worlds that are a true gift to this crazy world that is hell bent on disaster!
Look to Wayne for peace, truth, freedom, invention, storytelling and talent! You'll find it all there in his work: something worth doing, something worth looking at. Keep looking!
Julian Schnabel - American artist and filmmaker
April 18, 2022, Mexico


I know a surfer from Sydney who has carved beautiful line drawings across swells all over the world. He introduced me to a painter in America who I admire greatly, and this painter introduced me to another painter, Wayne Magrin, with whom I have become very close. I find it hard to remember life without his friendship. He has a wife named Sharon. Sharon is a writer and animal advocate who I also have great affection for. Wayne and Sharon love each other in a powerful way which I find restoring. They have a gorgeous dog named Daisy, they live by the sea, and they also have an enchanting tree house. Their life is the stuff of myth.
Wayne's paintings and his life are one. He has an internal narrator that maps his days sailing and painting where embellishments and storytelling are part of the performance of life and art.
The strong elemental base of our relationship is that our lives are both given value by their proximity to the sea. He is taking me sailing soon—something I have never done. I feel that being out there at sea in his domain will place us on the interior plane of his work so that in a plastic sense we become a part of the paintings, we become material. When I think of the seascapes, I can't help but imagine the voyeur. A telescope from the headland moves down into the bay and across chopped water that sprays up onto the vessel. On sharpening its lens, it locates two friends—two friends drawing lines across swells.
James Drinkwater
April 2022
\
Exhibition featured works
12 - 14 Meagher Street Chippendale, NSW 2008
Opening Hours
Monday to Friday, 9am - 5pm Saturday, 11am - 4pm