BLOOM
8 October — 24 October 2020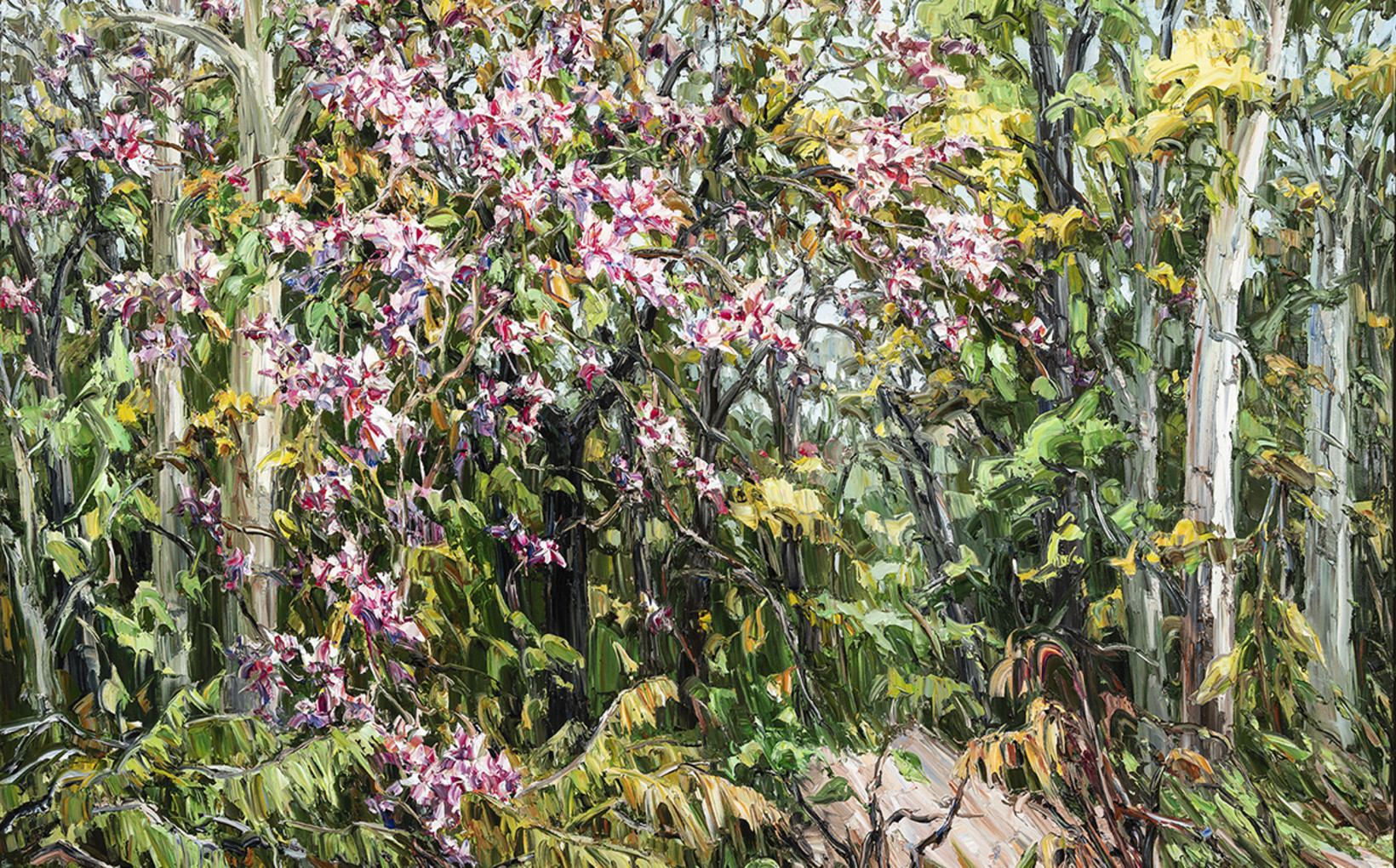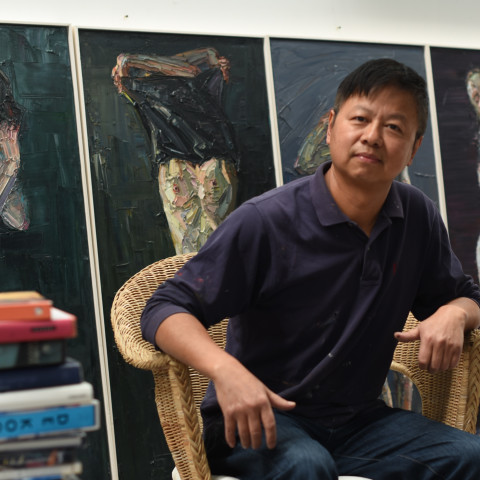 Born 1960, China
Lives and works in Brisbane
The calligraphic arts of China have for millennia been a fundamental building block for the advancement of science and culture. The delicate brushwork records the prose of the philosophers and writers, from the ancients to the contemporary. It is a pure form of artistic symbolism as language.
The meditative fluidity of the calligraphic hand translates ideas and passions, allowing the author to live long past their mortal existence. Every nuance and accent of the brush and ink emphasises the meaning and power of the message. The power of the medium extends to the landscape tradition of ancient China. Text and image—the two forms of expressive communication—are interrelated and inform each other, harmonised and precise in their meaning and intent on the long scrolls of delicate parchment.
It is within this historical context that the artist Jun Chen immerses himself every day before approaching his easel and canvas. As the black ink meets paper with transcribed poetry, Chen breaks the solitude of his studio. He connects in a deeply personal conversation with a tradition that runs deep within him, while his training as a traditional landscape painter in his homeland comes to the fore. Physically, this ritual hones the coordination of the eye—hand and mind—centring him and sharpening the precision of his skills. It is this clarity that provides the platform for Chen to weave lines and colour in oil paint into a tapestry of intent. It is from this methodology that the viscous oil paintings in Bloom have been born.
There is an integrity to the expressive composition in the works. Closed or open in their construction, the skill of the artist is evident allowing his audience to travel to another place. It is a philosophical inquiry into the experience of landscape. The poetic relationship between form, line and colour is profound.
Harmony and dynamism duel for attention throughout the interwoven colours executed in short and long swaths of oil paint. The perfection of his placement and tonal understanding—combined with the clarity of colour give strength to his unbroken vision of the world of contemplation. At its heart, the paintings in Bloom remind us to recognise what we have in this world and the beauty that abounds. Jun Chen does not set out to change the world, but through his deep understanding of it, he just might do that. His goal is to create quiet moments that allow us to rest our mind and take the time to enjoy the experience. Ultimately, it is through this process that we replenish our collective soul.

Ralph Hobbs
October, 2020
\
Exhibition featured works
12 - 14 Meagher Street Chippendale, NSW 2008
Opening Hours
Monday to Friday, 9am - 5pm Saturday, 11am - 4pm