Chromatones
23 April — 14 May 2020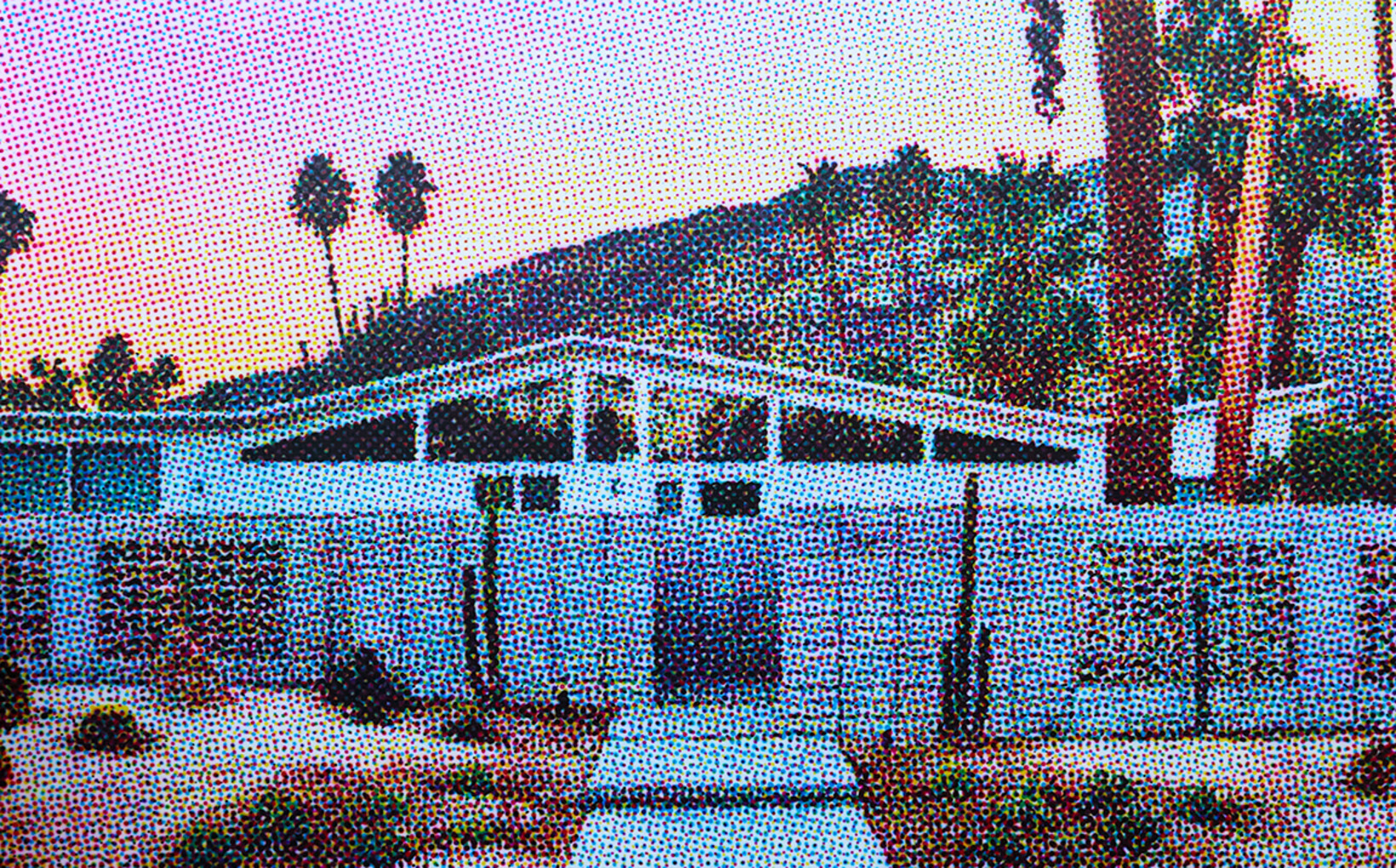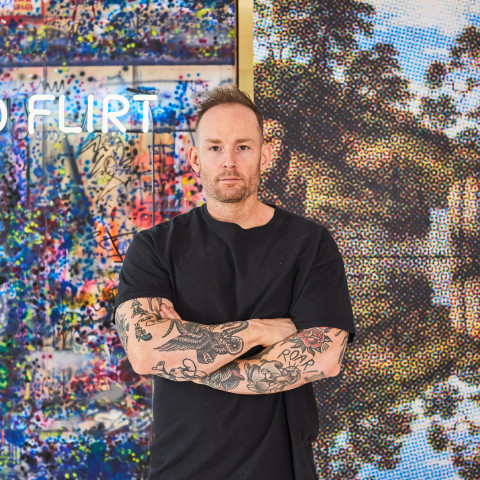 Lives and works in Melbourne
When I turned my mind to writing about the work of Melbourne artist, Tom Adair—it was a different world. I was exploring the notion of a Utopian paradise—one embodied in modernist mid-century west coast architecture. Palm Springs epitomises the idea of "cool". In its heyday, it was fun. Think high-key Hollywood camp meets 50's movie stars in tight shorts around sapphire swimming pools; days of long sunsets, so vibrant you as though you're looking through a multi-coloured cocktail glass. It is the palm tree manicured landscape carved out of the desert that we believed we could bend to our human will—and the foundation of our contemporary notion of "sun-blessed glamour".
The iconic buildings and the landscape they inhabit have been documented, dissected and imaged by Tom Adair's steady hand. Contextually, they reference an era in American history where anything was possible. It was post-depression, post-war. Man could land on the moon. Prosperity was abundant. One could build or buy anything needed to be happy.
Now the world has changed. We live in a time of immense social, environmental and economic upheaval. Anxiety is peaking around the world. This is not the first time in history that man has faced the unseen wrath of nature. But it is the first global crisis in the digital age—and it has touched us all. In our brave new world of social distancing and lockdown, our existence is a far cry from the idealized, Arcadian vision of my mind.
Today, I look at Adair's pop enthused exploration of the landscape through wistful eyes—searching for a time past. Yet there is an unswerving sense of joy and hope in his work. The optimism of his imagery plugs us directly into that time that was social, joyous and carefree. Throughout history, we have used the visual image as a source of comfort—a way to explain our existence and our place in the world. Humanity is empowered by its collective imagination to rise above adversity. The cognitive trigger is often an image that represents something better—a moment of joy; a spark to guide us through the darkness.
Adair's innate mastery of design and composition has been honed by time constraints that comes from crafting graffiti on the street. There is a potent immediacy about his imagery. The artist has worked tirelessly on his studio practice for over a decade—building an oeuvre that resonates across the world.
This exhibition, "Chromatones" is the next step in Adair's technical development. He mimics the mass production of magazine imagery known as the CMYK process—a method utilising layers of coloured dots (cyan, magenta, yellow and black) to create an image. Colour and form blurs on close inspection but from a distance—ambiguity gives way to clarity. The imagery undoubtedly owes a debt to Pop Art— Hockney, Rosenquist, and the French Neo-realist, Jacquet, provide a framework to investigate Adair's practice.
Now is the time when we search for the light – It was Andy Warhol, who in 1963 when explaining what pop art was about – said: "It's liking things". In our 2020 neo-contemporary existence, Adair is an artist that reminds us that in this world there is much to like. In doing so provides us with an illuminated light-filled exhibition that is the catalyst for hope.
Ralph Hobbs
April, 2020.
ARTIST TALK—Ralph Hobbs and Tom Adair chat about the exhibition from his documentation in the deserts of western USA to his signature airbrush painting technique and application of the CMYK process
\
Exhibition featured works
12 - 14 Meagher Street Chippendale, NSW 2008
Opening Hours
Monday to Friday, 9am - 5pm Saturday, 11am - 4pm