Gold Dust
15 September — 25 September 2015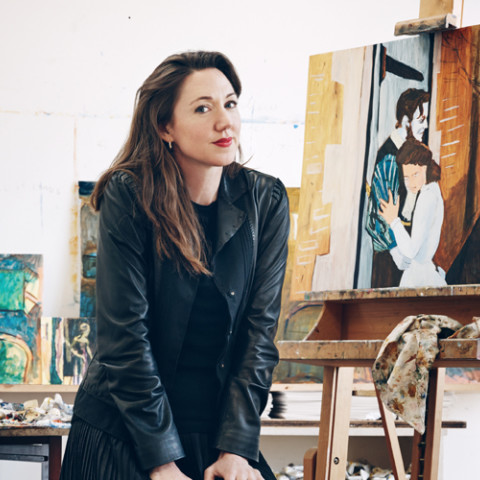 Born 1972
Lives and works in Sydney
Represented by nanda\hobbs
Gold Dust will be opened by Anne Summers, author of Damned Whores and God's Police.

The Exhibition runs until 25th September.
In 1851 everything changed in the colony of New South Wales. 'Australia Felix', in the south, was formally sundered and renamed 'Victoria'—and it was announced that gold had been discovered at Ophir, north-west of Bathurst. The tidy, paternalistic plans tabled in Westminster for the staples producer far to the South were thrown to the winds as colonists of all degrees rushed from their desks or benches or paddocks, and ships debouched adventurers and myriad others from faraway countries—all intent on grasping with their own hands the fabled prize glinting in the creekbeds and reefs. Within months the colony was markedly polyglot, with vividly multicultural tent-towns—dust-caked and always echoing with infernal dins produced by humankind and their machines—speaking of an entirely different future.
The gold diggings yielded immense wealth, made towns marvellous cities and redefined our politics. Even our criminals would become legends, while stories turned into folklore and then were honed into myth.

History and memory interweave in as many ways as there are individuals interpreting—ceaselessly—their journey through life. Thus if we tell a story often enough we will often believe it to be fact; equally if we neglect discussion and contemplation, something will be lost from history. When—as is the case with the extensive lost history of the First People of Australia, post-contact—retrieval of the memory is undertaken in order to repopulate history, the process is invariably fraught, being subversive. Some, preferring not to excavate down to the lode, may say It Never Happened. Thus the mythologies of early-Australian song and text occlude multiple realities, almost exclusively being paeans to the exploits of menfolk. However, Gria Shead sees, beyond the veil of conventional story-telling and hero worship, the quality, breadth and contemporaneity of the experience of Otherness in the Australian context.

In her exhibition Gold Dust Shead continues her investigation of the tropes and contexts that enable fleshing out of the Australian story. Borrowing the visual vernacular of the touchstones of our history Shead recontextualises icons and artefacts of Australian history relentlessly. Emblematic Kate Kelly, sister of Ned, gazes unflinchingly from a headpiece forged for her brother but which was no less rightfully armour she might have symbolically donned. As despondency turns to outright anger, Kate holds her Colt 1851 Navy pistol (favoured by the bushrangers) ready, a goldfields siren. The text of the vaudeville posters of the day continues the dialogue of who actually holds the power in this lawless land: The "hustler" will survive, whatever the odds stacked against her! Accompanying the questing women of Shead's mindfields are the epigraphic images of Ben Hall and Ned Kelly, acknowledging their iconoclasm and shared ostracism, but elevated beyond the reach of facile balladeering.

Shead is ever cognisant of the debt our society owes its women, past and present, whatever the context. Accordingly, to redress the balance, she confidently and with unfailing technical acuity reconfigures references such as Manet, Degas, Bonnard and Toulouse-Lautrec. Manet's masterpiece A Bar at the Folies-Bergère (1882) is referenced, except the beautiful but distant barmaid is in the bar at Hill End—and has had enough. Meanwhile Bonnard's sensual interiors with women take on a harder edge.

Shead's contextual references are impeccably sourced. At the primary level, it is notable that Shead resided in Hill End, New South Wales—classically associated with Australia's late-nineteenth-century Gold Fever days—for five years. For two of those years she worked underground in the twenty-first-century mine that reopened the search for the gold that had been inaccessible to the earlier diggers, unassisted by computers and state-of-the-art machinery. Shead found inspiration in the actual and virtual landscape, astutely attuning to material and invoked veins of complementary realities.

Her experiences place Shead in a unique position to restore for us the history that must be spoken of if we are truly to understand the history of this continent—and to move forward better informed and more attuned to the cultural richness we may more benignly mine.
\
Exhibition featured works
\ News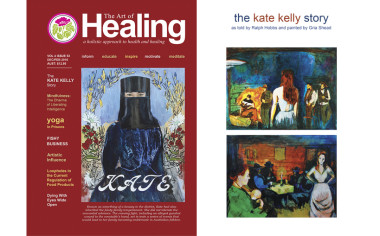 Media
3 December 2015
A painting by Gria Shead titled "True Kate" is featured on the cover of The Art of Healing magazine, Vol 4, Issue 53, Dec/Jan 2016.
Read more
12 - 14 Meagher Street Chippendale, NSW 2008
Opening Hours
We are currently open online and by appointment only Please contact us to arrange a viewing.