Gridlocked
25 June — 11 July 2015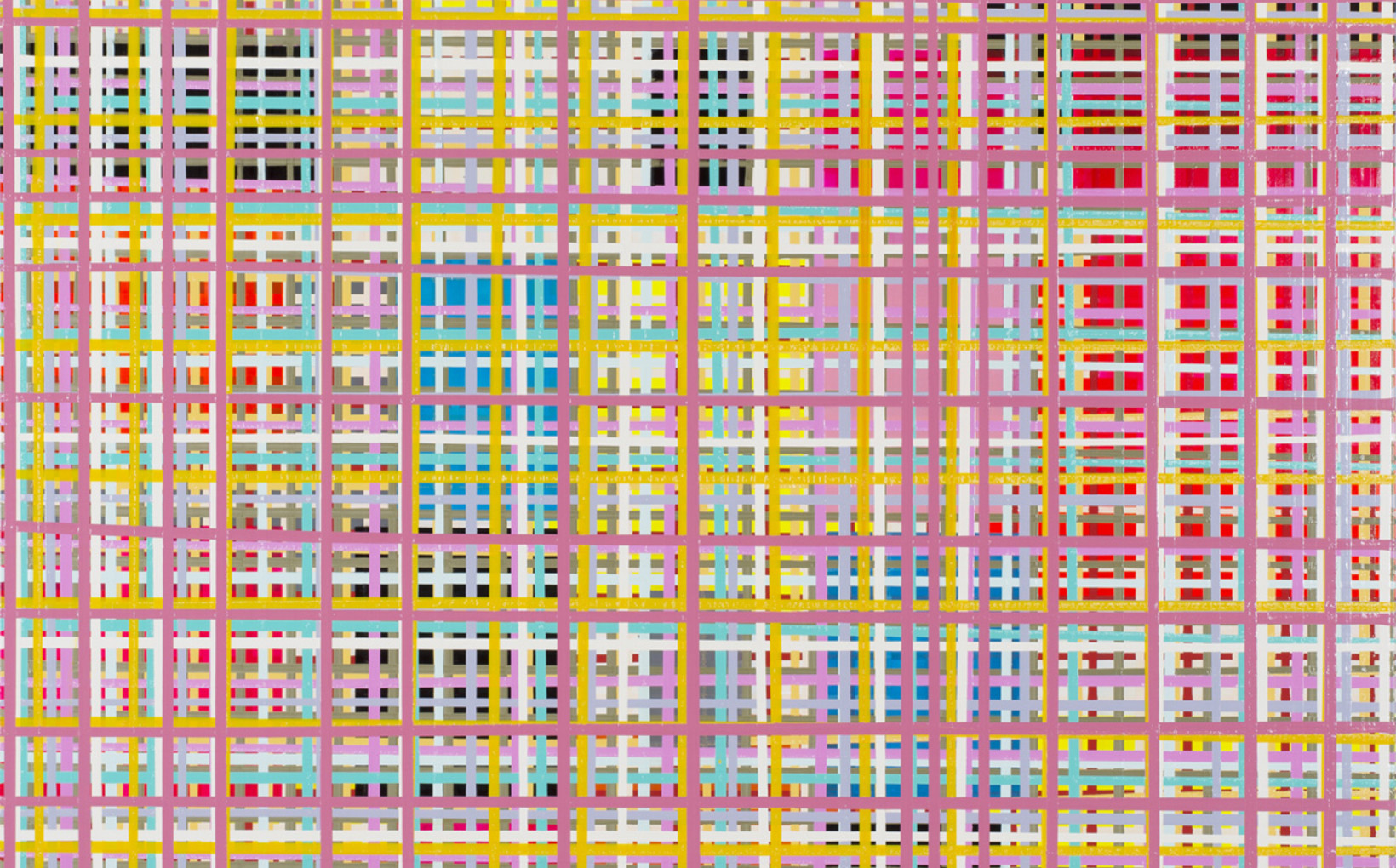 Born 1961
Lives and works in Melbourne
Boogie Woogie Recognition - A Morse Code of Rhythm
In 1943, Piet Mondrian, who had recently relocated from Paris to Manhattan, completed his masterpiece—the pulsating, almost hallucinogenic, Broadway Boogie Woogie. It was inspired, in equal parts, by the overwhelming bustle of Gotham and the extraordinary exuberance of the burgeoning Jazz scene.
In 2003, cyberpunk founder and author of the groundbreaking novel Neuromancer, William Gibson released Pattern Recognition. The narrative follows Cayce Pollard, a 32-year-old marketing consultant who has the remarkable ability to "see" patterns within the information-overload of the contemporary Net.
In 2015, Australian-based artist Robert Doble unveiled—or should it be said, unleashed—his new series of abstractions: Gridlocked. A tumultuous, broiling, kaleidoscopic and dazzling epic of line-work, colour and, to steal Gibson's title, a sense of 'pattern recognition.' What possible connection could these three disparate figures have? One an abstract painter of European descent, one an American-born science fiction author and the third an English-born colourist based in Melbourne.
A Morse Code of rhythm, a Consensual Hallucination of information. If we allow the eye to relax, images other than those obvious, begin to emerge from behind Doble's grids. Like Gibson's Cayce, we can read more than readily meets the eye. We can hear the paint and see the music. This was Mondrian's power as well; one can readily hear both the cacophony of Manhattan street life and the pulsating rhythms of the jazz clubs.
But if anything, Doble's musical palette is more diverse than that of Mondrian. For one thing amidst his inspirations music plays a potent role. While jazz and classical music play a role in the studio, Doble is eclectic in his tastes. Amidst the tunes we can hear emanating from these pulsing, living canvases we can hear the notes of David Bowie, Maria Callas, Siouxsie and the Banshees, Lisa Gerrard, Gladys Knight, Ella Fitzgerald, Foo Fighters and, inevitably, the Rolling Stones and the immortal Led Zeppelin. He soars from melodic to raucous, from Midnight Train to Georgia to Cry me a River, from Jumpin' Jack Flash to Kashmir, from the blues to punk and his tonality follows accordingly.
Alongside music, the environ that inspires these 'landscapes' is all important. A restless traveler, he paints with inspiration from New York City's 5th Avenue to London's Leicester Square to the fecund swamplands of Florida. Similarly, despite the potential dryness of The Grid, these are emotional landscapes, expressing both in colour and in their titles mixtures of emotional distress (Envy), jealousy (Jezebel) and worship (Hero).
There is a sense of deliberate irony in Doble's title for this show, for if there is one thing for sure, these grids are by no means 'locked'. If anything they exude a sense of the infinite, as though what we are seeing is one small section of a global network of colour.
Indeed, these 'grids' contain multitudes. They hum with boisterous life. Like Gibson's notion of Pattern Recognition we can recognise portraits of the intensity of life in a gridlocked age of electrified currents of energy and information. Colour and rhythm collide here in an experiential crescendo. The Grid may have a long and substantive history in art, but never before has it lived with such intensity and integrity.
Ashley Crawford
June 2015
\
Exhibition featured works
12 - 14 Meagher Street Chippendale, NSW 2008
Opening Hours
Monday to Friday, 9am - 5pm Saturday, 11am - 4pm