Masterpieces from Iltja Ntjarra, Many Hands Art Centre,
Home of the Namatjira Artists

Albert Namatjira was a Western Arrernte-speaking Aboriginal artist from Central Australia. He was born and raised at the Hermannsburg Lutheran Mission, 125 km west southwest of Alice Springs.

Namatjira showed an interest in art and under the tutelage of Rex Battarbee, began to paint in a western style—detailed scenes of gum trees and the rugged geological features of the MacDonnell Ranges, Palm Valley and the landscape he was familiar with.

He became an extremely successful watercolour artist who had numerous sell-out solo exhibitions in Adelaide, Melbourne and Sydney. These exhibitions not only generated an income for the artist, they also created enormous bureaucratic and cultural problems. Namatjira was a great man caught between two very different cultures. He was forced to pay income tax while being denied the normal privileges of an Australian citizen— no Aboriginal was allowed to travel interstate without a permit and he could consume alcohol himself but could not share a drink with his immediate or extended family. In Aboriginal culture everything is shared between family members hence he was frequently insolvent despite his large income—all money earned went to buying provisions for his family and the large number of tribal relatives. Ironically, Albert Namatjira's last resting place, Alice Springs, was the place in which he was not allowed to buy a house during his life.

Albert Namatjira did leave a legacy and a style of painting known as the 'Hermannsburg School' which continues to the present day. His work is in the collections of most major Australian galleries.

Iltja Ntjarra, Many Hands Art Centre has a special focus on supporting the 'Hermannsburg School' style watercolour artists, who continue to paint in the tradition of their grandfather and relative, Albert Namatjira—arguably one of Australia's most famous artists of the 20th century. Namatjira taught his children to follow in his unique style. They have since passed this knowledge on to their children, which has resulted in the legacy of watercolour artists in the Central Desert region. By continuing his legacy, these artists sustain an important piece of living history. 1
This new exhibition at Nanda\Hobbs Gallery includes six large paintings, all measuring 182cm x 244cm. The scale of these works has never been attempted before. Each is a museum quality masterpiece.
Ken McGregor, 2017
1Iltja Ntjarra, many Hands Art Centre website
\
Exhibition featured works
\ News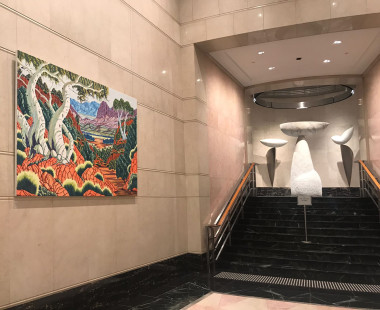 NH Event
25 January 2018
As Chifley's art partner, we are delighted to have installed five magnificent works in the building's lobby by contemporary Indigenous artists of the Hermannsburg region. Chifley's grand and elegant lobby in Sydney's CBD is a magnificent setting for the museum quality masterpieces. They will be on display until early May.
Read more
12 - 14 Meagher Street Chippendale, NSW 2008
Opening Hours
Monday to Friday, 9am - 5pm Saturday, 11am - 4pm