Opening Old Wounds
28 July — 13 August 2022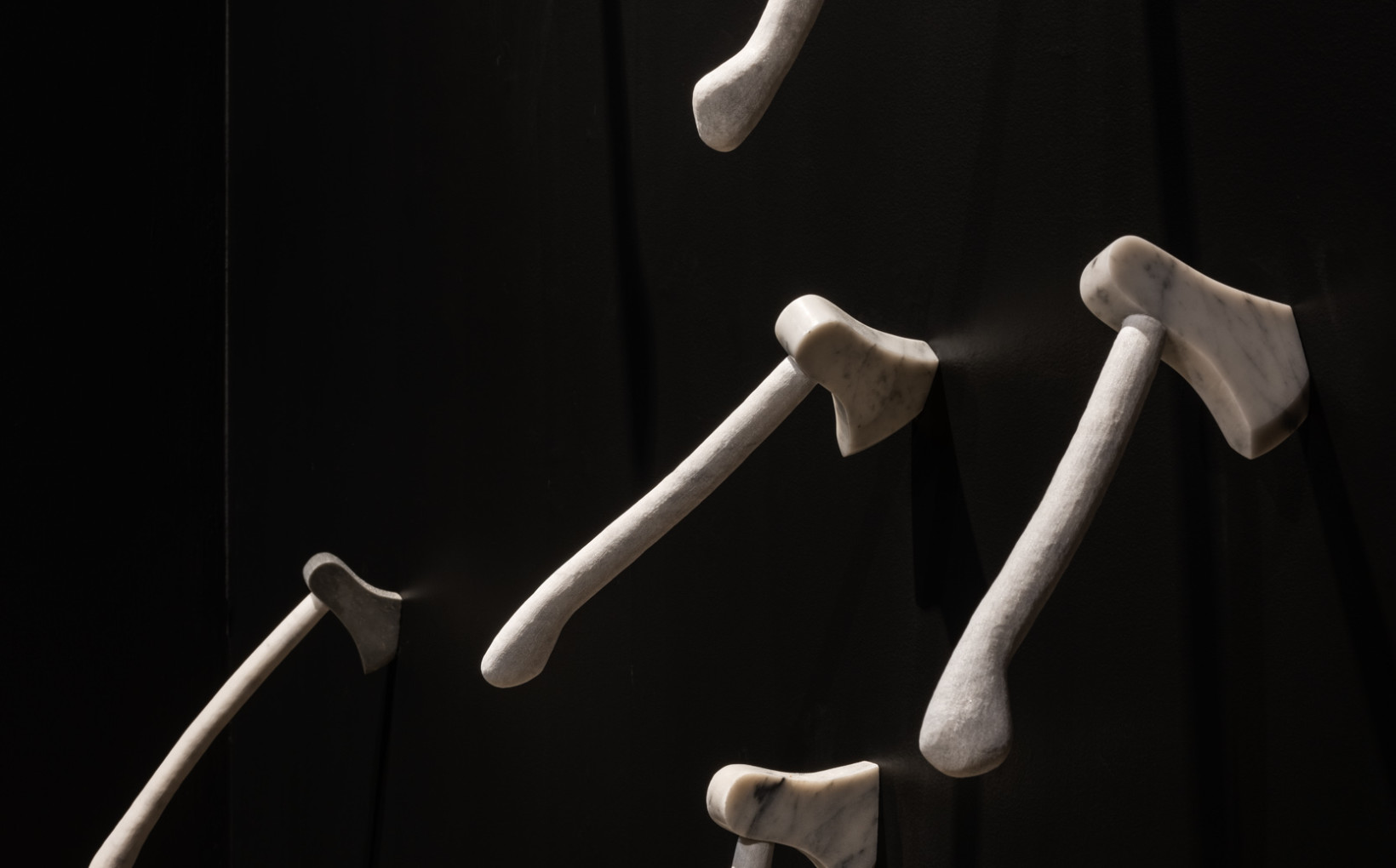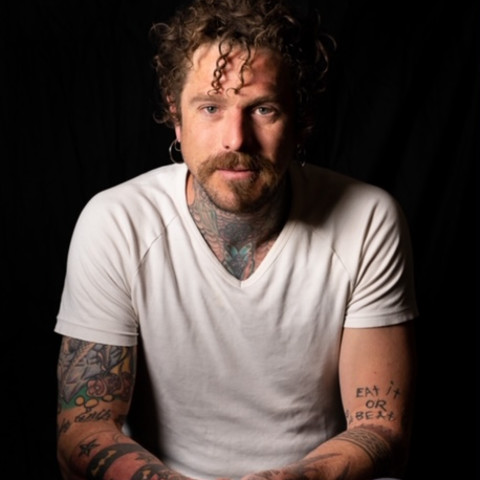 1982
Lives and works in Sydney
Represented by nanda\hobbs
I find it hard to focus looking forward. So I look backward.
— Iggy Pop
Beneath the devil-may-care veneer, Mitchell Ferrie is ruled by passion. He has worn and inked many skins: lover, craftsman, rock and roll singer, friend, ratbag, artist. He has thrown himself at life, hard.
Once in a while, as the years pass, he has paused a moment to look back on where he's been, skins shed and unshed. And now, he has turned his hand to the task, bringing together the past and the present, the physical and emotional worlds.
Three stone blocks sit in the gallery as in a forest. Roughly hewn like great trees, an axe embedded in each like the sword in the stone, they bear the scars of human acts. Something has happened here. Bodies have been in motion. Acts have played out.
A little further, a dark room. A single axe is in the centre of the room, awaiting a hand. In the facing wall, a dozen smaller hatchets of unlike shapes embedded as if flung. Everywhere there is action, the traces of stone hewn, of tools and hands.
In contrast to the cool perfection of geometric forms that made up his last show, in Opening Old Wounds, the artist is everywhere. These works are not objects, they are traces. Battle scars. This is memetic purging, a gallery of horcruxes. Encased in every piece of stone is a piece of life, captured and released. Let go.
We all have our axes to grind (sorry Mitch, couldn't resist). Ideas we have about ourselves. Things we said and did. People we hurt and were hurt by. Squandered opportunities. Calamities. Disappointments and deaths. Common heartbreaks. Petty crimes.
Some we carry with us a long time. Wisdom is knowing when to release them -when to throw them away, and at what.
Good sculpture is always about the body, whether felt in its absence - an unworldly perfection of pure form - or in its inescapable presence - the action of life contained within. Opening Old Wounds is inseparable from its artist's life.
We bear witness. Artfully carved stone that holds past lives so the body no longer needs to. Stone that holds so that we may release.
Kate Britton
July 2022
\
Exhibition featured works
12 - 14 Meagher Street Chippendale, NSW 2008
Opening Hours
Monday to Friday, 9am - 5pm Saturday, 11am - 4pm