salt.water.oil
1 December — 11 December 2021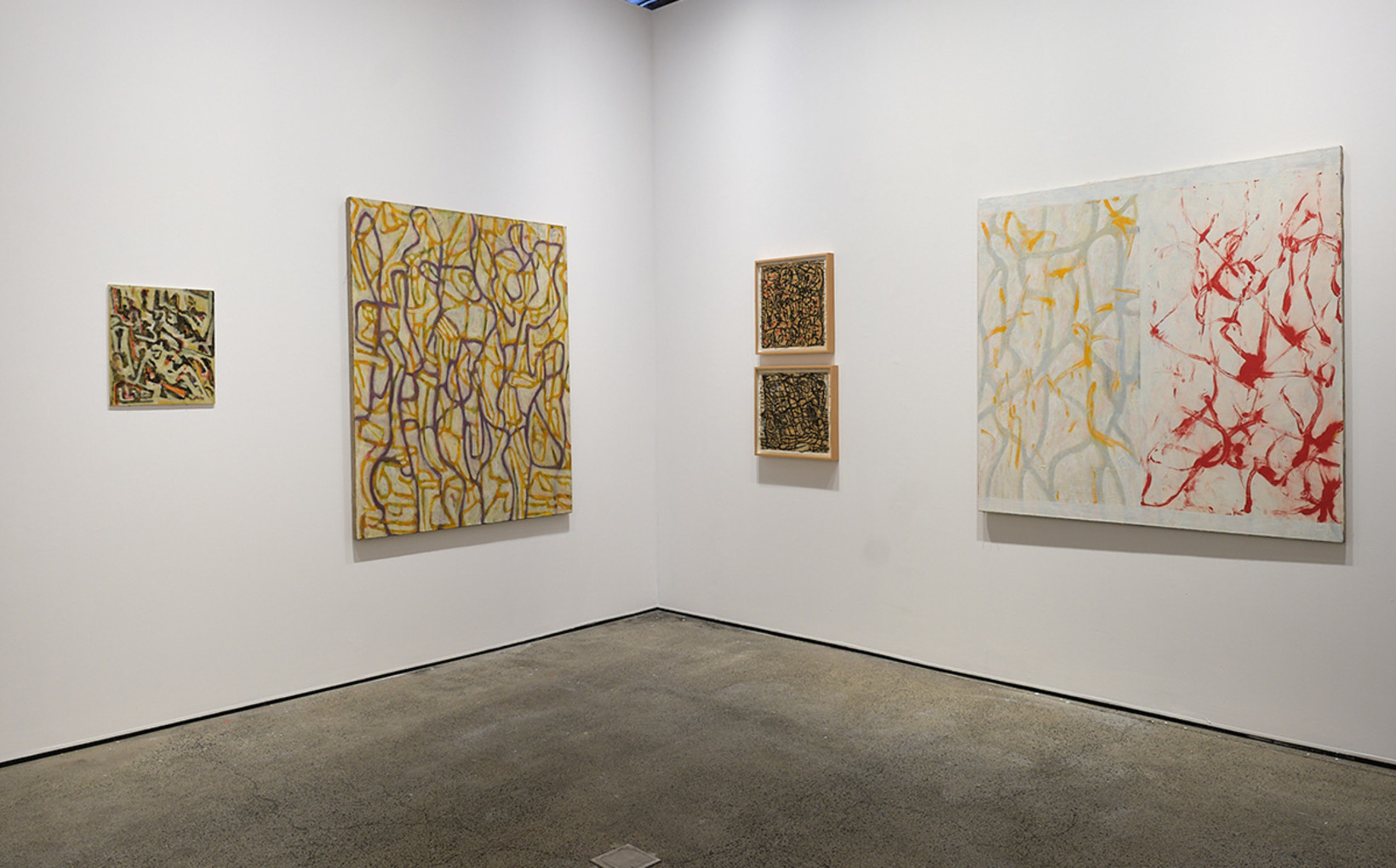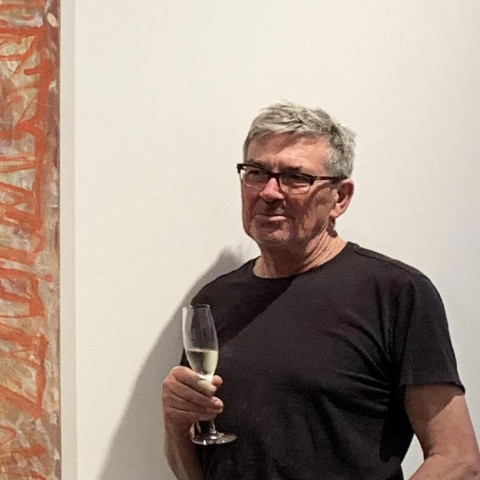 Lives and works in Sydney
Tony Mighell's practice operates in the place between painting and drawing. His meticulous ability to create delicate, interwoven linework is showcased in an interplay between layers of transparent tone and strong pictorial structure. It is Mighell's amalgam of spontaneous mark making, delicate colour harmonies and thoughtful compositions that makes the artist's work so remarkable.
Sitting at the intersection of gestural and geometric abstraction, Mighell's works possess a visual language that is distinctly his own. The artist's layered calligraphic configurations are rich in texture and dynamism—his organic, gestural marks imbued with movement and a palpable energy.
Ink, paint, paper and canvas are layered and laminated with an array of media, evoking a sculptural feel from the two-dimensional plane. Through a process of creating and then imprinting marks, translucent silhouettes of the original strokes materialise—faint memories of the artist's hand. Moving rhythms of curvilinear gestures dance across the surface of his works until a sense of cohesion is attained and each of the elements coalesce.
In his exhibition, salt.water.oil, Mighell's modernist leanings are at play. His story is immersed in the great studios and art galleries of this country and underpin a contribution to our cultural heritage. There is a playful curiosity in his practice that is worthy of high praise and serious consideration.
Ralph Hobbs and Nicole Hauser, December 2021

I first became aware of Tony's work through a dear mutual friend Todd McMillan—they have had a long professional and intellectual relationship, one of mutual admiration, respect and humour. I came to know Tony's brain before knowing his pictures, however, it soon became clear that there's no divide between the two, none at all.

The paintings are the closest thing to sculpture you might find on a flat plane. In fact, they look as if they were moulded from some kind of compound, possibly clay and possibly glazed by Tony's thoughtful and discerning eyes. My memory of Tony's eyes is that they are of many colours... I love the inaccuracy of memory. The paintings are elastic, plastic and powerfully manipulated into something synthetic, something majestic—paintings I haven't seen before, and this I'm grateful for. For in an age of many 'wax museum' painters, Tony arrives with both the oldest and the newest object to be seen on a white wall.
James Drinkwater, November 2021

Tony was my boss. I was employed among many other young artists. We painted walls, we moved things, and some of us hung pictures. Tony provided a means to support ourselves in the beginning of our careers. He was the Pater familias of Sydney's emerging art scene. If you've seen 'The Wire', Tony was the large hearted union boss; the Frank Sobtka of Contemporary Art circa 2000. During this time, I volunteered to stay at the gallery overnight. The job was easy, someone just needed to be in the room while an artist finished their work. I was seated on a couch with a book when Tony came in and asked, "Is that Joan Didion you are reading?". At first I thought I might be in trouble, but in that moment it was as if one soul recognised itself in another and a bond was born that endures and will continue until the end. Tony is a teacher, Tony is a poet, Tony is a painter. Tony speaks passionately; often we have talked about writers, about mark making about Van Morrison and mystery. He is born out of time, but we are lucky to have him. Tony paints as if he is working out a problem. The gestures in his works are both a code and a cipher, a Rosetta stone between Modernism and now.
Todd McMillan, November 2021
\
Exhibition featured works
12 - 14 Meagher Street Chippendale, NSW 2008
Opening Hours
Monday to Friday, 9am - 5pm Saturday, 11am - 4pm