Suppression Order
4 July — 22 July 2023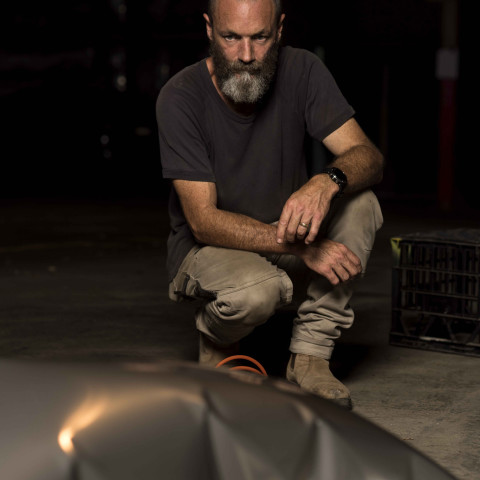 LIves and works in Newcastle, NSW
Suppression Order
Braddon Snape's raison d'être is to hold a mirror to society. His sculptural forms question our accepted norms, practices, and history. The work is enigmatic. Indeed, the artist himself is an enigma—on the one hand, the sculptures are robustly industrial, yet there is a highly refined quality in their finish and profound academic intent that extends deeply into the theoretical. The innate tension in the materiality of his sculpture is manifest in the juxtaposition of surface and form. The mirrored and patent surfaces are folded and crushed into shapes imbued by an interplay of inflation and restriction. The delicately balanced structures, anchored in space, are entirely abstract yet, somehow intensely literal in their referencing of the human condition. This element points us to the personal in Snape's sculptures. He wants us to acknowledge the emotional challenges and toll taken by existing in an over-interconnected and entangled world. However, the works remain beautifully positive beacons of hope, helping to navigate a path through.
On a macro level, human history is awash with stories of suppression and disruption. Usually, the restraints lead to massive upheaval and rebellion—it is invariably a matter of time. This cycle knows no geographical, historical, or racial boundaries. Snape is aware of the significant revolutionary moments of upheaval where paradigm shifts occur. The French Revolution of 1789 -1799 was the imperfect destruction of one form of feudal suppression into another. Ultimately, it would result in a system of democratic representation for the people born from the flames of societal revolt. At the time of writing, the fire of descent has once again ignited in France—the same place, a different time. It points to the shifting breaking points that exist and how they have morphed and moulded society throughout history. These are ultimately defining moments that have changed everything.
There are implicit modernist references that Snape touches upon within the exhibition. The heightened pop colour sensitivity and implied softness of his inflated forms have been bent at will, playing with our understanding of materiality. The anchoring of structures by hard vertical and horizontal steel lines nods to the abstraction of Mondrian. It is form stripped to its structural essence. Snape is a brave and vital artist—he recognises that the artist's role moves beyond the beautiful. His work pushes us deep into an imperfect world yet, encourages us to find harmony in the tension that underlines our experience of existence.
Ralph Hobbs
July 2023
\
Exhibition featured works
12 - 14 Meagher Street Chippendale, NSW 2008
Opening Hours
Monday to Friday, 9am - 5pm Saturday, 11am - 4pm