Tapestry of Night
14 July — 29 July 2016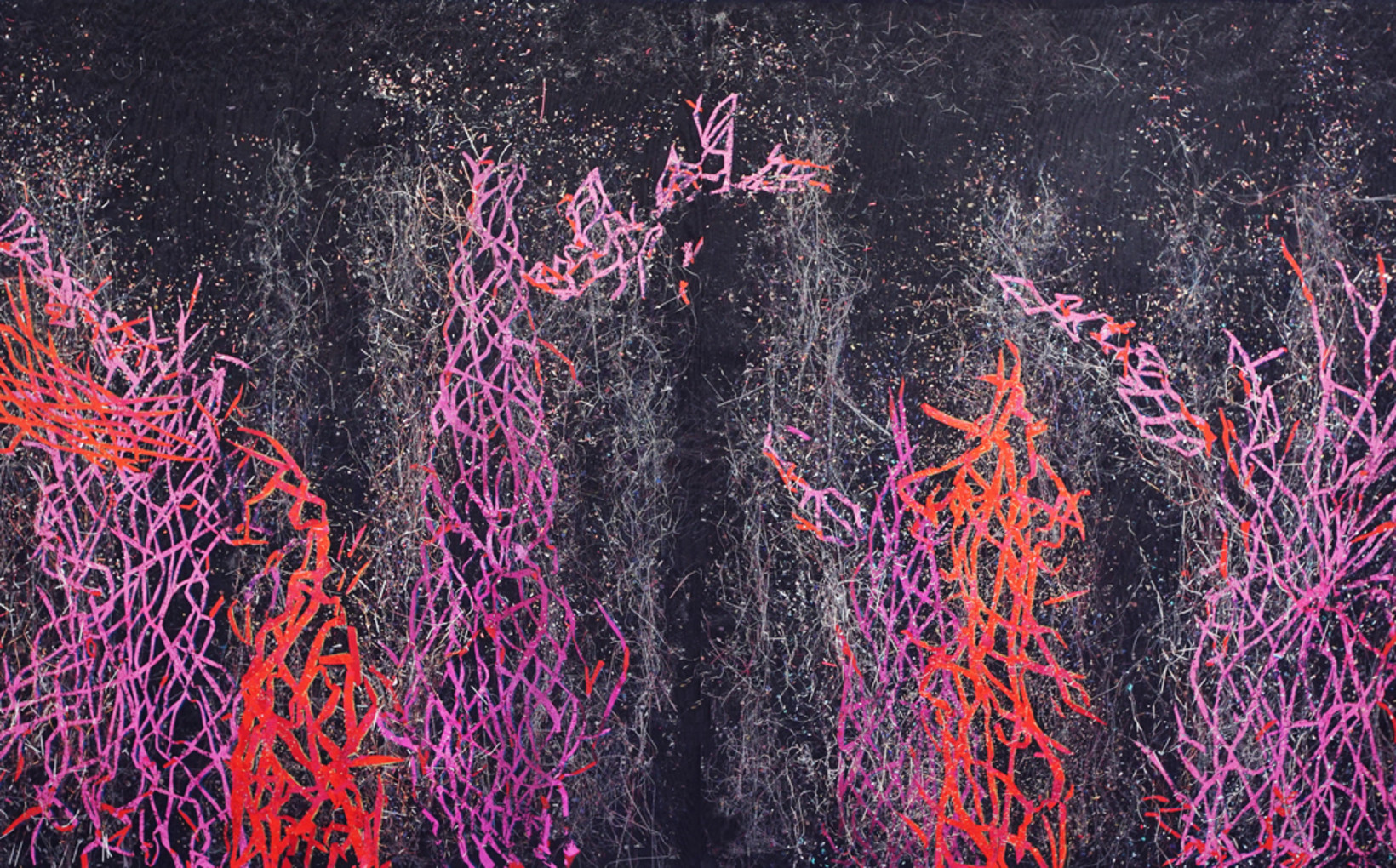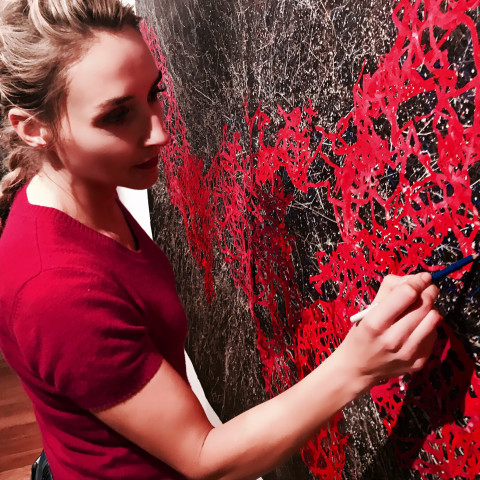 Lives and works in Sydney
Represented by nanda\hobbs
Zoë MacDonell continues her investigation into an ethereal world of landscape and memory in her latest exhibition titled Tapestry of Night. The artist powerfully incorporates swaths of colour and line that dance through the picture plane, alluding to the night sky and desert floor.
Controlled chance plays a role in MacDonell's creative process. Dots float atop the fibrous lines applied to the silk and canvas surface—creating an interface that builds form. Throughout the exhibition the artist references an ancient landscape—weathered without respite or human interference for millions of years.
The new works challenge the viewer to delve deep into our memory and understanding of the intrinsic history of place, and how that history is informed by memory. Whilst these works are geographically located within the Central Desert of Australia, they owe much to the surrealist concept of greater perception though dreamlike states of being. You don't so much look at this work as absorb it though osmosis. Close investigation of the surface reveals the delicate and painstaking touch of the artist.
The place of memory in association with landscape is one of the central themes of historical art criticism and reading. The great J.M.W. Turner investigated abstracting place in the painting Val d'Aosta c.1845, part of the collection of the National Gallery of Victoria. This work has until recently, been thought to be an Italian mountain-pass covered in mist—the embodiment of the sublime. More recently, a re-reading of the work potentially places it on the River Rhine near the Swiss town of Schaffhausen. In a painting of undoubted beauty and aesthetic power, the true sense of place is lost. However the dynamic abstraction that remains on the wall of the gallery has become an even more powerful accomplishment of aesthetic passion—it is not one place but rather is everywhere.
It is Turners swirling tonal and effortless sense of movement that has been appropriated by MacDonell. Indeed Turners ghost hovers throughout the show, electrified by the intense colour of MacDonell's palate and elemental capturing of the landscape. In Tapestry of Night, the artist's marks are embedded in the surface of the layered silk, like rock strata from the ancient landscape MacDonell has walked.
The endless night sky and the contemplation of the enormity of our place within the landscape is a central tenet of MacDonell's vision. It is not based on the literal, rather it is created through considered aesthetic sorcery. In a world that operates too fast for its own good, the slow interweaving of ideas and mythology evoke the practice of the great Indigenous women painters of the desert. Tapestry of Night is a link to their traditional image-making and the broader history of Western art and culture.
Ralph Hobbs
July, 2016
\
Exhibition featured works
12 - 14 Meagher Street Chippendale, NSW 2008
Opening Hours
We are currently open online and by appointment only Please contact us to arrange a viewing.