Technium Naturae
15 August — 30 August 2023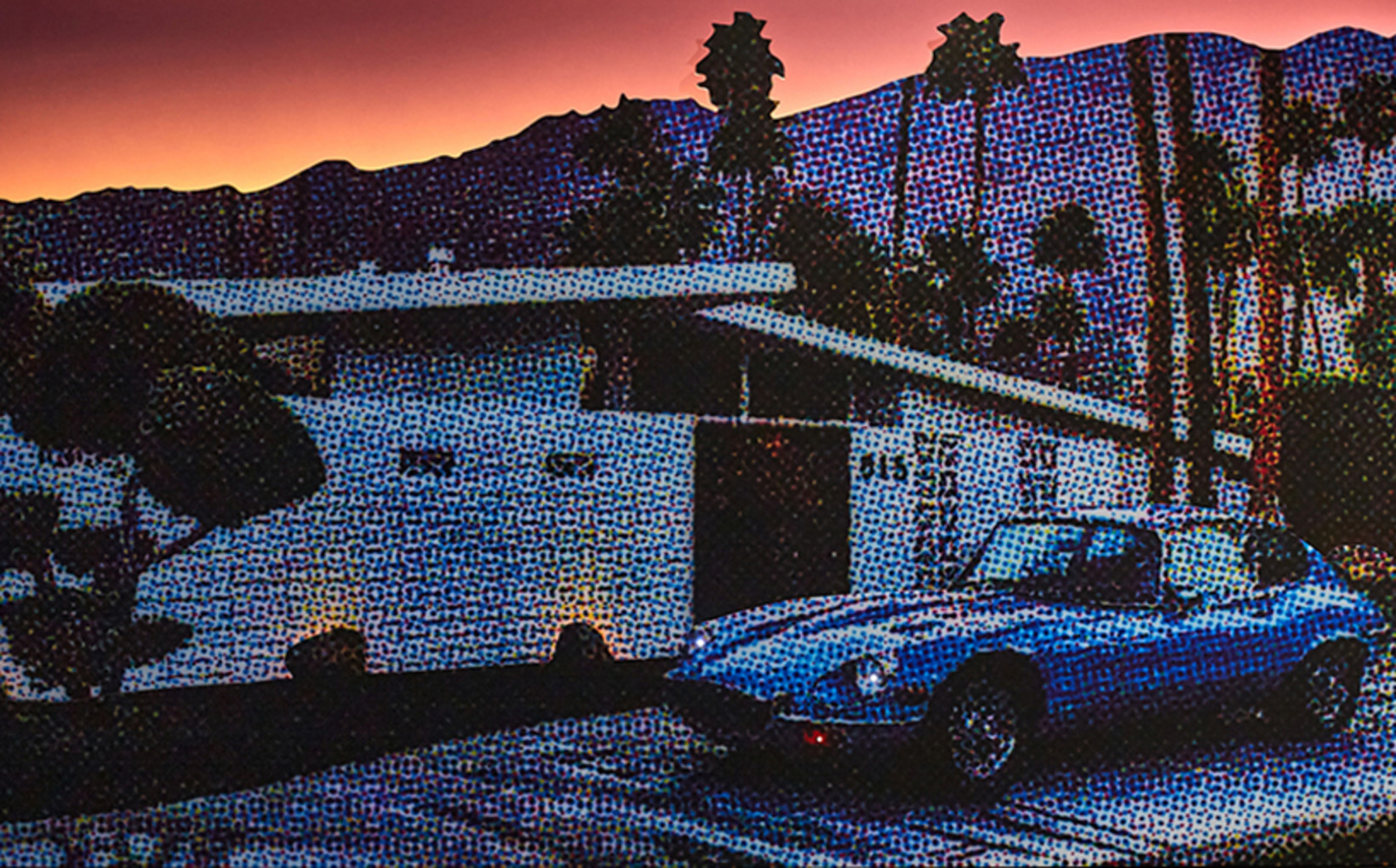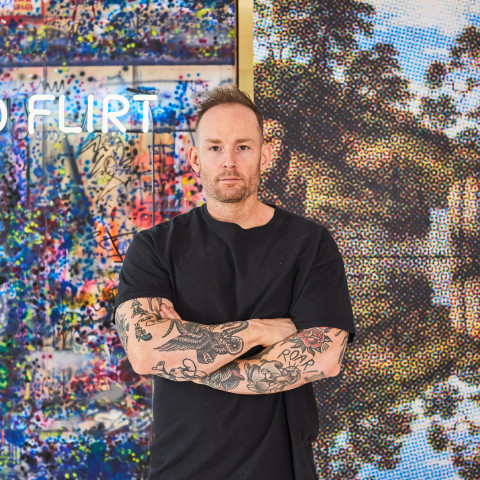 Lives and works in Melbourne
In 1959, Robert Rauschenberg wrote, "Painting relates to both art and life. Neither can be made. I try to act in that gap between the two." It was a decade that saw the Pop Art movement unravel traditional definitions of art as lofty and exclusive, dissolving the boundaries between creative expression and everyday life.
Mass-consumerism began to dominate urban landscapes. Mundane and familiar subjects were elevated to the realm of high art. This deconstruction was not merely an act of appropriation, but a recontextualisation of the visual lexicon. It claimed the image as an investigative platform, transforming ordinary symbols into potent emblems of change.
An illusion of precision, Tom Adair's unique, CMYK half-tone methodology presents an optical conundrum that straddles this symbolic boundary between art and life. Step back, and we could be looking at a video freeze frame—a barely-there whisper of soft, dim light caressing a spatial eternity that exists beyond the shadow of a sharply silhouetted roof's edge. Step forward, and we're consumed by an electronic afterglow gently held behind the flat layered, three-dimensional depths of a handbuilt frame. In the foreground, each point of pigment rivals its airbrushed counterparts; imperfect and artificial, organic and controlled.
We are welcomed to engage with his latest exhibition, Technium Naturae, at our leisure—transported to the idealistic utopian architecture of mid-twentieth century Palm Springs. To accept Adair's invitation is to be swallowed by the depth of what we perceive to be real. Sleek mid-century modern homes stand like futurist sentinels of progress amid the arid landscape of Adair's arena. In this stillness, form hovers over form. We witness the fluid flaws of Adair's pointillist-like airbrush strokes on aluminium Dibond, each section grafted to the next, backed by an eerie electronic glow of diffuse light.
It's an echo of America's mid-century idealism, abundant and manicured. Where cocktail parties and poolside soirées hummed with the promise of a greater tomorrow. In this oasis of possibility, time slowed, stretching daylight into pastel-hued evenings that reflected a palm-fringed world eager to embrace its boundless future. It was the golden era of Palm Springs, and a mirage of naive aspirations and false promises.
And yet, Adair's concern runs deeper than the mere renderings of this Modernist suburban aesthetic. There is an underlying malaise at this intersection of nostalgia, nature and technology, at odds with the permanence of his architectural forms—structural nodes on a living network.
"People are the bridge between architecture and technology. We can't have one without the other. We're so reliant on technology, this ephemeral concept, and yet here we are, sitting in our houses, in these structures that are ongoing and pervasive. You can't simply switch off or delete the things that we've built into the physical realm. These houses are permanent, embedded into the earth's crust. They exist with nature. And as people, we exist within them, but we also exist within this intangible technology that floats up in the cloud. There's a dual dependence. People rely on the natural world as much as the technological world. We must sit in between both." - Tom Adair
Adair's exploration of technique and technology share common ground with Melbourne artist and quintessential father of Popism, Howard Arkley. With echoing sentiment, both embody a reaction to society, mechanism and mundanity. Adair's fusion of traditional screen-printing techniques with modern technology parallels Arkley's ethos, whose airbrushed line-work and vivid paintings of generic houses stretched beyond a simple exploration of Australia's mid-80s and 90s suburban vernacular.
Of the 16 works included as part of Technium Naturae, Adair's screen printings pay deep homage to the influence of Arkley. He reverses his predecessor's technique. Rather than methodically placing down colour and finishing lines with the airbrush, Adair airbrushes each background colour and meticulously lays black outlines over the top. Each palette is hand-picked and recreated from a different Arkley painting—a symbolic passing of the baton.
Technium is a term coined by Futurist writer Kevin Kelly, embodying the idea that technology is an extension of life, a self-reinforcing trajectory that shapes and moulds the future. It reflects the ongoing dynamic between human ingenuity and the limitless possibilities of an interconnected technological landscape. Naturae, a Latin term that translates to "of nature" or "pertaining to nature", embodies the essence and fundamental qualities of the natural world, and encompasses all that exists without human intervention.
Adeptly hand-crafted, Technium Naturae exists at the centre of these two forces. A diametrically opposed union of past, present, and the boundless possibilities of a technological future.
Anthea Mentzalis
August, 2023
\
Exhibition featured works
12 - 14 Meagher Street Chippendale, NSW 2008
Opening Hours
Monday to Friday, 9am - 5pm Saturday, 11am - 4pm