THE BOXER — When I was young I said my prayers
9 February — 27 February 2021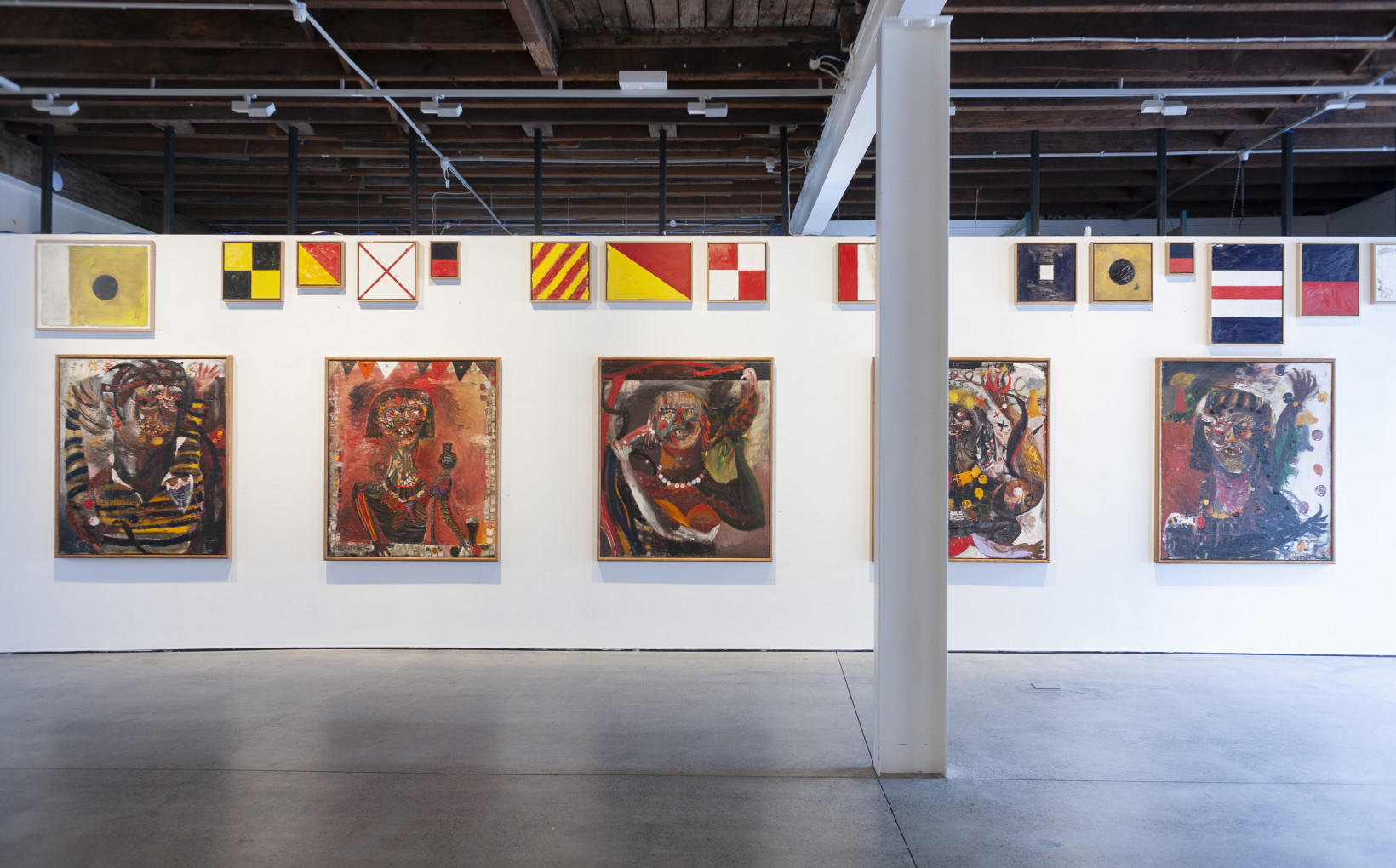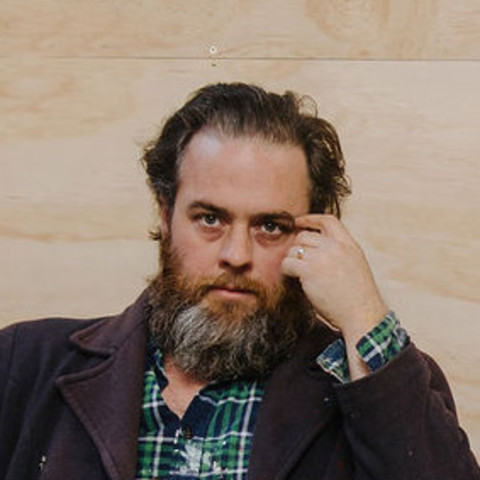 Born 1983
Lives and works in Newcastle
Represented by nanda\hobbs
His story was cinematic, he had a lust for life. If he were a street sweeper he'd have painted flowers with his broom. My late Uncle Greg was a boxer and a poet.
For the past two years, I've been developing a body of work around his life story, in an effort to understand this important family narrative and to understand the man—his qualities and his flaws.There is an intention to investigate the commonality we share as individuals and as family members.

Furthermore, this work has endeavoured to interrogate the thread of a certain genetic character that runs through the Drinkwater family; a tough and brazen exterior with a most delicate and sensitive interior. It seeks to explore a deep but mostly unrealised creative vein that has moved 'under the current', passing through generations... largely ignored. I'm sure, for example, my grandfather, Warren Drinkwater who worked in a pharmacy for forty years, could have made one of the great 'lounge singers' – and such is the common story of many Drinkwater's.

I feel fortunate to have broken this cycle and to have been encouraged to openly express this 'delicate and sensitive interior' from an early age. I praise my parents for nurturing my passion and preoccupation with painting and drawing from an early age. I suppose I was fortunate to have been born at a time where young people were encouraged to pursue creative pathways. I admire my Uncle Greg for being brave enough to begin to write and perform his poetry for the first time at almost forty years of age and to continue to find a silver lining in the most unlikely of places, no matter how dire his situation became. That is success! That is a life worth striving for!

Whilst making the works, I sought to find common ground with my uncle. He wasn't academic and well, neither was I. As a result, teachers shared similar frustrations, as indicated on our respective report cards. To support his dreams, my uncle worked as a salesperson. To support mine I waited tables. We both, as it turns out, wrote poetry; mine to accompany music, where his was written within the vernacular of Australian bush poetry. Well lubricated, he would recite poetry to a spellbound audience gathered around the bar of his beloved Sunnyside Tavern.

"I'm a two fisted drinker and a crowd pleaser!" he would say before imparting some Banjo Patterson or one of his own works. This desire to perform is yet another parallel I found and I'm reminded of my time playing pubs and clubs in a band, sleeping on floors from town to town—not that different to a touring boxer.

Wally Bentley was his boxing coach and it's a notable coincidence that Bentley's gym was situated on the same floor of an inner city Newcastle warehouse where years later, as a boy at the Ron Hartree Art School, I would take my first classes in life drawing and painting. The building soared over the harbour and I love that somehow we shared that view whilst earning our respective stripes. In fact, the only thing really stopping us being together was time—and with time being such an abstract concept, I like to think that we coexisted in that space together with its cathedral ceilings and sweated THE BOXER – When I was young I said my prayers Greg Drinkwater rough sawn timber floors. I can actually hear and see it all and it's quite special to be honest!

It's in the painting, Wally Bentley Backs a Winner that a profound moment of commonality occurs. It's a painting of a prize winning horse moving with such elegance and speed that it simply disappears behind and beyond the red ribbon finish line, towards eternity and into the lush green of the racecourse. In this painting the horse becomes a metaphor for both the promising boxer and the rising painter. "Take them to the track!" they say in the horse racing business when the stallion or mare is deemed ready to race. The painting refers to the moment when you are championed, when finally a confirmation of your devotion and commitment is granted and you are validated by a third party. I can't begin to tell you how good that feels. For my Uncle Greg, it was Wally Bentley who provided this shot in the arm. For me, it was Ralph Hobbs. For both the Art dealer and the Sports trainer, it's all about the punt. They are looking for a 'stayer' to join their stable. Art dealer and gallery director, Rudy Kommon always wanted the slow painter – 'the stayer' with endurance, commitment and with distance in mind; qualities Bentley most certainly found in Gregory.

I recall, in my late teens that Uncle Greg would turn up to our family home unannounced, in true Drinkwater style, often with a slab of Toohey's Red or Toohey's Old over his still broad shoulders. He lit up our home with great warmth and possibility and the house was lighter for it. It was as if he was restoring himself. I somehow knew he was broken, a perfect mosaic of the then modern man. In the wake of this man's life lay a marriage, a split, beautiful children, two sporting careers, a catalogue of poetry, a list of sales jobs, a series of heart attacks, an insidious terminal disease and many serious surgical procedures.

I remember he was fishing a lot in those days and I'd run into him on the beach with my surf board. I didn't have the language for it then, however I knew innately that he was doing so much more than fishing...or was it a whole lot less? All that tangled paraphernalia of nets and hooks disguising the act of reflection. Men go to a lot of fuss to learn about themselves and create great scaffolds and sets in order to do so. I knew overwhelmingly that what he was doing was sacred, almost monastic.

The works in THE BOXER – When I was young I said my prayers are loaded with elegies, some overt and some concealed, which talk to both the public and the private identities of the man. For I too have come to understand that as painters, we are doing far more than just making pictures—studios, lights, paint... all that paraphernalia to disguise the act of reflection.

I had a day dream recently—I could see my Uncle Greg fishing on a beach and he was falling into the horizon. He began to talk to the ocean with soft urgency. It took several attempts until sufficient projection surged from within his guts, towards his chest and out of his throat. The announcement was made like signal horns from a distant harbour, official and emblematic. Letter by letter, flags of distress appeared along the horizon transposing his words:

I L O V E Y O U T O P I E C E S
and he was lighter for it

I'll never forget the phone call with the news that he had died in a house fire. He'd spent the evening with dear friends at their home and decided, as he often did, to stay the night. He felt good there.

After the fire, he was found with an extinguisher next to him, indicating his efforts to fight until the end. His family can take comfort from the fact that, as he took his last breath, he was not suffering. The irony is that the disease that should have killed him, was deprived of its chance to do so.

Even at the end, 'Willie', you managed to dodge an uglier opponent; a death that arguably would have been slower and more painful. You made a fool of that lousy disease, you legend, you beautiful hero!

James Drinkwater
January, 2021

A few years ago, I climbed into the ring to try my hand at boxing. In front of a large effusive audience, the culmination of months of misplaced bravado and stupidity was manifested in three rounds and an inevitable climax. There are many things that go through one's mind as you step onto the canvas. Fear and courage wrestle in that moment—they make strange yet symbiotic bed fellows. The brutal dance that ensues is as old as humanity. Ring craft is a strange thing; curiously beautiful. It is theatre with an uncertain final act.

Now the gallery is the stadium—the prize fighters are paintings.The Boxer – When I was young I said my prayers is an exhibition that delves into raw, visceral yet lyrical forms. The artworks evolve from the intensity of that moment in time—the combustion of heat generated from the frenzy, when bodies collide. Charcoal, paint and bronze describe a world that ricochets between chaos and Zen.

The Boxer – When I was young I said my prayers is a poetic epitaph, a response to James Drinkwater's uncle Greg. A raw-boned man with the gift of athletic talent and erudite words that spoke of his loves and losses. The artist traces his legacy, following the boxer's journey through his life and death, the silk robes, and the poems penned in distant lands. He explores the people that surrounded the boxer—those eccentric lives, so rich yet never celebrated. There is a deeper metaphor that exists. It is in that moment when one is confronted in the ring or conversely as a painter before an empty canvas brush in hand. It is the weight of expectation, the sense of urgency and trepidation that free flows. Its mastery is paramount when one is advancing headlong, flying in the face of caution lest the result lands you on the wrong side of joy—all bloodied and bruised.

It is true in life, that ambition is so often quelled by many an opponent ready to pounce on weakness. The courage to be true to your spirit is the mark of resolve. This artist and his uncle are journeymen—together in a life less ordinary. This is a posthumous collaboration between two men linked by spirit and blood. Their bond holds true; the story is told and a legacy now exists for all to explore. Ralph Hobbs February, 2021 "The boxer and the artist are very similar—with skill—they can both avoid staining the drop sheet".

Ralph Hobbs
February 2021
FOR EXHIBITION OPENING AND ARTIST TALK EVENTS, PLEASE VISIT OUR EVENTS PAGE (RSVP's are essential due to Covid restrictions)
\
Exhibition featured works
\ News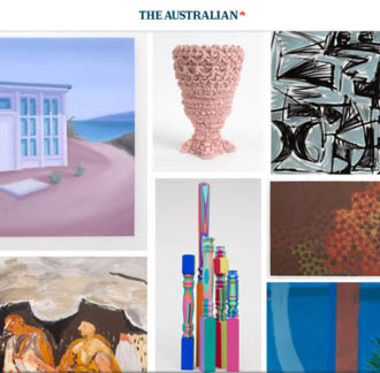 Media
13 January 2021
50 works by 50 artists — all for sale. Presenting The Australian's inaugural summer exhibition, a showcase of the most exciting young Australian artists working today. By Amy Campbell.
Read more
12 - 14 Meagher Street Chippendale, NSW 2008
Opening Hours
Monday to Friday, 9am - 5pm Saturday, 11am - 4pm