West of the Kiewa
17 March — 1 April 2021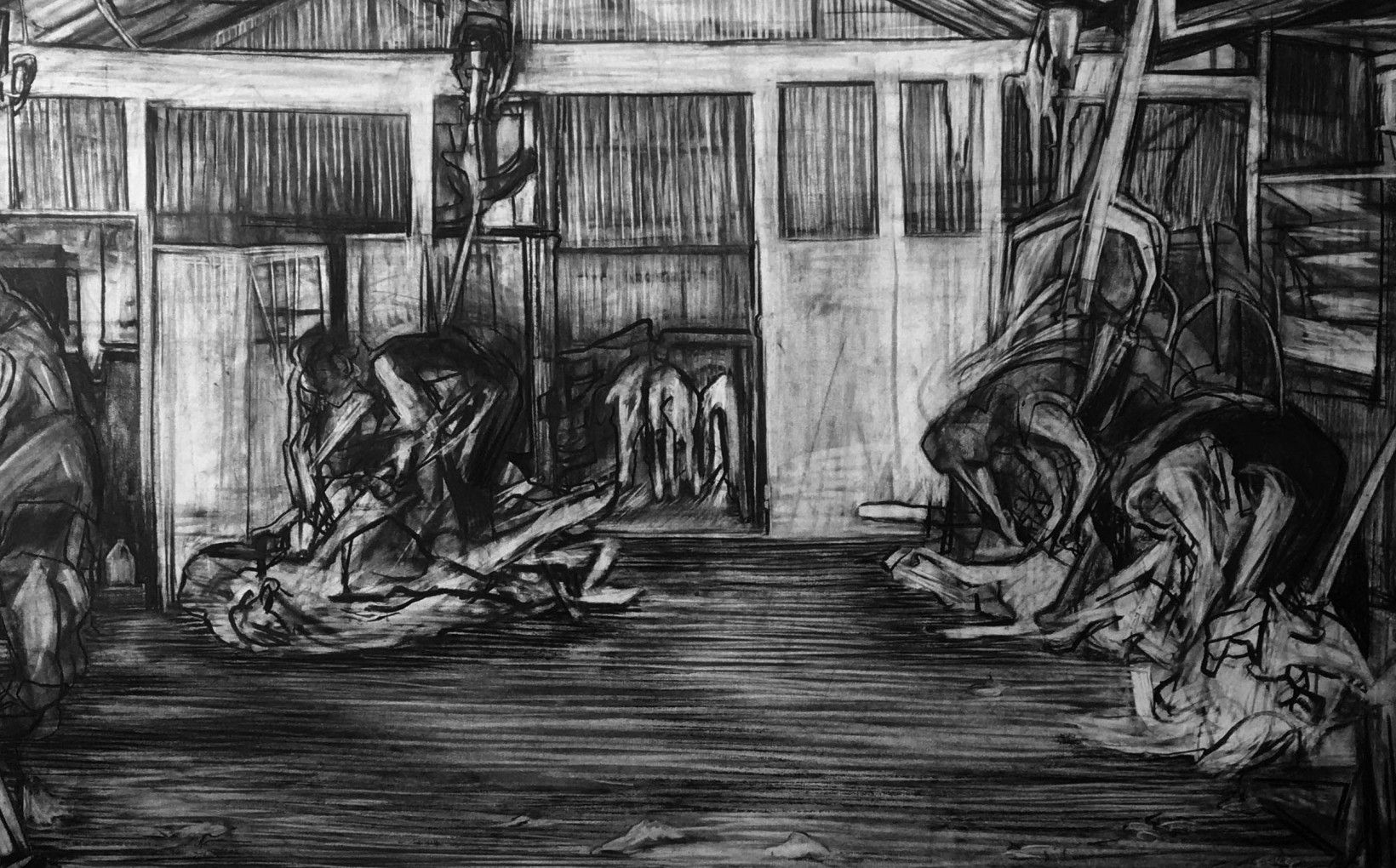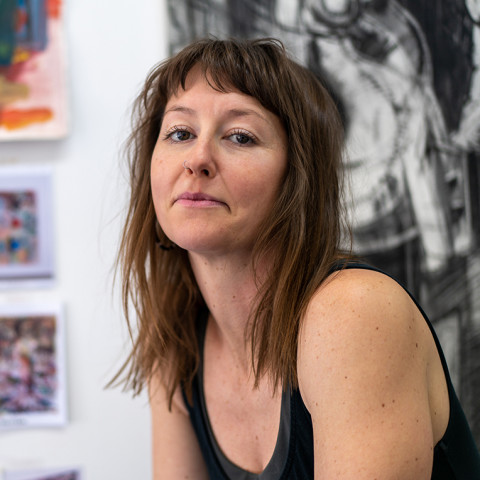 1987
Lives and works in Melbourne
Represented by nanda\hobbs
West of the Kiewa—Stephanie Eather's first exhibition at Nanda\Hobbs, brings to the gallery her expressive charcoal drawings that demonstrate a deep understanding of her chosen medium. A dynamic vitality is imbued within her large-scale drawings. Eather's travels to regional Victoria and New South Wales—Taungurung, Yorta Yorta & Barapa Barapa Country— to trace her family history, overlay a nostalgic sensitivity to the objects and scenes in her compositions. It is in these environs that Eather has been able to connect and, indeed, immerse herself in the spaces shared by her ancestors.
Central to her practice, the artist engages in the primal alchemy of making willow charcoal by hand. She cuts, peels, chops and roasts in an open fire, small branches from the willow trees sourced from the properties she references. Through the artist's hand, Eather imprints her autobiographical mark, sculpting the surface of her paper with charcoal in a process of emotional dissemination.
Reminiscent of Filippo Marinetti and the Modernist Futurist movement, Eather's compositions dismantle pre-existing visual structures and abandon the classicism of our historical past. With a sense of vigour and vitality to her mark making, Eather's works on paper embody the dynamism and energy of a mechanical world. Her shearing objects—documented in their mechanised form—expose the flux of physical movement in daily working life.
The shearing shed—one of the iconic images of Australia—is graphically interpreted, not only in spatial compositions but through the artist's attention to the minor moments within the space. The comb and cutters of a shearing blade, a wrench left on a bench—you can sense the warring of the belts and wheels of the shearing machines. Modern at some time in the past but still relevant to the contemporary workings of those in the sheds.
Echoing the movement of the workers and the machines, the physicality of Eather's practice celebrates the action that she witnesses through the autonomous line that glides across her page. Drawing back into her works with an eraser, Eather plays with the negative space, effectively carving light back into her monochromatic palette. The artist ignores the optical effects of colour, instead, emphasising a new conception of space through light and dark.
In recent years, Eather's rise as one of Australia's most interesting artists working in this medium has been critically realised. The artist has received recognition as a finalist in the prestigious Dobell Drawing Prize in 2019 and 2021.

Nicole Hauser and Ralph Hobbs
March 2021

Stephanie acknowledges the Traditional Custodians of the land on which she travelled and worked, Taungurung, Yorta Yorta & Barapa Barapa Country, and pays respects to their Elders past, present and emerging
\
Exhibition featured works
12 - 14 Meagher Street Chippendale, NSW 2008
Opening Hours
Monday to Friday, 9am - 5pm Saturday, 11am - 4pm